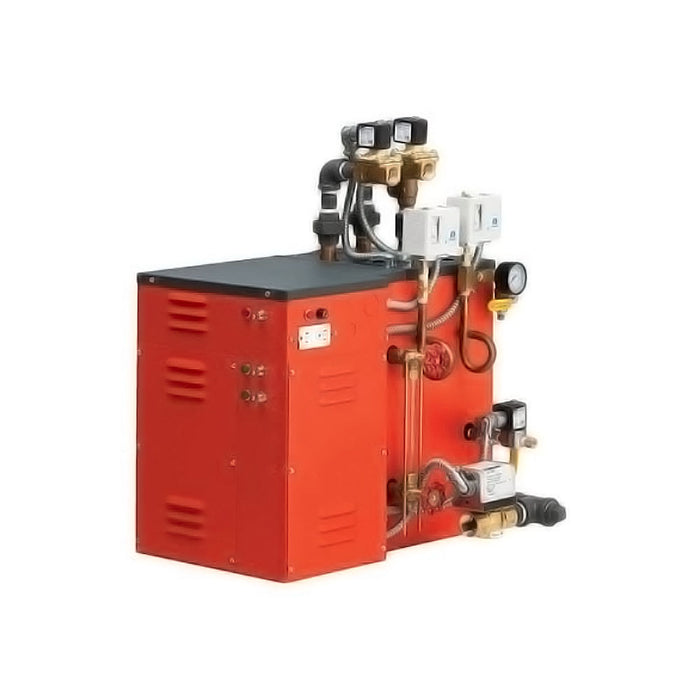 Steamist HC-36 Steam Shower Generator
Save

17

%
Save

17

%
Original price
$8,652.00
-
Original price
$8,652.00
In Stock & Ready to Ship
All orders are shipped within 1 - 2 business days. Product ETA 5 - 7 business days.
HC Series Commercial Steam Room Generator, 36kW
The Steamist HC-36 is a 36kW electric steam room generator is engineered for automated, around-the-clock operation of the most demanding commercial health club steam rooms.
Description

Features

Includes

Required for operation

Specifications

Product Manual

Steamist Warranty & Guides

Shipping & Returns

About Steamist
DESCRIPTION
The HC-36 commercial steam generator can power steam baths with dimensions from 1,250 to 1,500 adjusted cubic feet (ACF).
The Steamist HC-36 unit includes a 36-kilowatt professional-grade heating element, a pressurized vessel for efficient operation, durable electronic components, a high-limit pressure control with manual reset, a DCCP digital control package, and a variety of other noteworthy features.
Commercial facilities across the country rely on the Steamist HC-36 commercial steam boiler for easy maintenance and hands-off operation. The HC-36 is UL-listed and ASME-authorized to ensure safety and quality. All Steamist HC Series generators are delivered factory wired and assembled to assure that each unit is working perfectly.
The HC-36 steam shower generator comes with the programmable DCCP digital control package which allows facility operators to remotely adjust steam room duration, max temperature, idle temperature, weekly operating schedules, and power settings. Each additional steam room requires the use of the available SRP Second Room package.
The Steamist HC-36 generator is available in 208V single-phase (63601), 208V three-phase (63603), 240V single-phase (63600), 240V three-phase (63602), and 480V three-phase (63604) configurations.
We recommend the addition of the available Steamist DC-ABD Digital Automatic Blowdown Valve with your Steamist HC-36 unit. The DC-ABD Blowdown valve drains the boiler tank to help prevent calcification and lime build-up. The valve includes a 24-hour clock which allows facility operators to pre-set generator drain times.
NOTE: Additional Freight Charges May Apply.
FEATURES
HC Boiler
Industrial grade heating element
Pressurized vessel for instant steam operation
Durable electronic components
Built to ASME code
Available automatic system for daily blowdown
Operates with electronic steam room temperature control
Full 1" drain port
Operating, electronic high limit and ASME safety valve pressure systems
UL listed and built to ASME B & PV code
Sight glass
DCCP Digital Commercial Control Package
Digitial touchpad
Programmable time user control
"Idle" energy conservation mode
7-day, 24-hour programmable timer
Up to 6 daily programmable settings changes
Includes
HC-PCMR Auxiliary Manual Reset Pressure Cutoff
DCC Digital Command Center control with 50' cable
User Bypass Control with 50' cable
Room Sensor with 50' cable
Control Module
Steam Solenoid, factory installed
Steamhead with Cool Sense cover
Installation and operation manual
Limited warranty
REQUIRED FOR OPERATION
Steamist SRP
Second Room Control Package
SPECIFICATIONS
| Model | HC-36 |
| --- | --- |
| Minimum Adjusted Cubic Feet | 1251 |
| Maximum Adjusted Cubic Feet | 1500 |
| Kilowatt Rating | 36 KW |
| Shipping Weight | 200 lbs. |
| Water Supply Connection | 1/2" NPT |
| Generator Steam Line Connection | 3/4" NPT |
| Steam Head Connection | 3/4" |
| Drain Connection | 3/4" |
| Safety Relief Valve Connection | 3/4" NPT |
| Safety Relief Valve | 15 PSIG |
| Control Sensor Cable | 2 Conductor, 22 AWG, Shielded Cable |
| Control Sensor "Rough In" Cut Out | 5/8" Diameter |
| Generator Control Connection | 3 Wire Nuts |
| Generator Control Cable | 3 Conductor, 22 AWG, Shielded Cable |
| Width | 39" |
| Depth | 22" |
| Height | 28" |
Steamist Warranty & Guides
Steamist Limited WARRANTY
Applicable to USA and Canada, to products purchased after July 1, 2010
(This warranty does NOT apply to the EliteSteam product line)
Residential Steam Bath Generators
Steamist, Inc. ("Steamist") warrants to the original consumer purchaser that the parts of its residential steam bath generator will be free from defects in materials and workmanship for as long as the original consumer purchaser owns the home in which the steam bath was originally installed.
Residential Shower Valve Model TSSH
Steamist warrants to the original consumer purchaser that its residential shower valve model TSSH will be free from defects in materials and workmanship for a period of five (5) years from the date of purchase.
Residential Controls, Spa Options And Accessories (Excluding Sauna Controls And Accessories)
Steamist warrants to the original consumer purchaser that its controls, spa options and accessories will be free from defects in materials and workmanship for a period of two (2) years from the date of purchase.
For two (2) years following the date of purchase by the original consumer purchaser, or for five (5) years for the residential shower valve model TSSH, and with prior approval by Steamist, Steamist will pay for labor and/or freight costs for repair/replacement associated with warranty coverage. Thereafter, Steamist will not pay for labor or freight costs associated with removal/repair/replacement of products covered by this warranty.
Commercial Warranty
Steamist warrants to the commercial purchaser that the parts of its HC, Hospitality models HTSG and HSMP, Day Spa models DTSG and DSMP steam generators, steam equipment, controls, accessories and all commercial Sauna heaters and Sauna controls will be free from defects in materials and workmanship for a period of one (1) year from the date of purchase.
For commercial purchasers, Steamist will, with prior approval by Steamist, pay for labor and/or freight costs associated with warranty coverage for ninety (90) days from the date of purchase.
What We Will Do
Steamist will, at its option, repair or replace, free of charge, any part that proves defective in material and/or workmanship under normal installation, use and service during the applicable warranty period as stated above. Steamist may elect to refund the purchase price. Replacement parts are subject to availability and may differ from those originally supplied.
These are the consumer's exclusive remedies.
What Is Not Covered
This warranty does not cover damage caused by improper or negligent installation or use. Provided that Steamist is paying the cost of the labor under the terms above, this warranty does not cover repairs attempted by any person other than an authorized Steamist agent and shall be limited to the repair or replacement of defective parts by Steamist or its authorized agent.
This warranty is void if any of the following should occur:
The use of the product for an unintended application, including a commercial application for all products except those subject to the commercial warranty above.
The product's serial number has been altered or removed.
The product is modified in any manner which Steamist concludes, after its inspection, affects the reliability of the product.
The product has been improperly repaired by anyone not specifically designated or authorized by Steamist.
The product is damaged because it is not operated or installed in accordance with supplied instructions.
The product is installed outdoors.
The product is installed in a moist and/or humid area with unconditioned air or temperatures that exceed 140 degrees Fahrenheit.
The product is damaged due to freezing or is installed in an area where temperatures fall below 32 degrees Fahrenheit.
The product is damaged by acts of God.
How To Make A Warranty Claim
To obtain warranty repair or replacement, contact Steamist at: 800-577-6478 or
techsupport@steamist.com to receive an RGA# (Return Goods Authorization number) which must be on the carton that is returned via UPS Ground or equivalent. Proof of purchase (original sales receipt showing purchase date) identifying the model and serial number must accompany
all warranty claims.
Limitation On Duration Of Implied Warranties
Please note that some states/provinces (including Quebec) do not allow limitations on how long an implied warranty lasts, so the below limitations may not apply to you. TO THE MAXIMUM EXTENT PERMITTED BY APPLICABLE LAW, ANY IMPLIED WARRANTY, INCLUDING THE IMPLIED WARRANTIES OF MERCHANTABILITY AND OF FITNESS FOR A PARTICULAR
PURPOSE, IS LIMITED TO THE STATUTORY PERIOD OR THE DURATION OF THIS WARRANTY, WHICHEVER IS SHORTER.
Limitation Of Special, Incidental Or Consequential Damages
Please note that some states do not allow the exclusion or limitation of special, incidental or consequential damages, so the below limitations and exclusions may not apply to you. TO THE MAXIMUM EXTENT PERMITTED BY APPLICABLE LAW, THIS WARRANTY DOES NOT COVER, AND STEAMIST SHALL NOT BE LIABLE FOR, ANY SPECIAL, INCIDENTAL OR CONSEQUENTIAL DAMAGES WHETHER ARISING OUT OF BREACH OF ANY EXPRESS OR IMPLIED WARRANTY, BREACH OF CONTRACT, TORT, OR OTHERWISE.
Additional Rights
This warranty gives you specific legal rights, and you may also have other rights which vary from state/province to state/province.
This is Steamist's exclusive written warranty and the warranty is not transferable.
SHIPPING & RETURNS
Cancellations & Refunds: At In-Essence Homes, we pride ourselves on having the best return policies in the industry. Cancel your order any time before it ships completely free of charge (exceptions apply such as custom orders, see below).
If you have questions, please send an email to info@inessencehomes.com or call us at 1-(307) 218 7280
Will I get confirmation of my order?
As soon as we receive your order, we'll send out confirmation to your email address, this just means we've received your order in our system and we've pre-authorised your payment method ready for your purchase.
What happens after I receive my order confirmation?
We check with our warehouse or suppliers to make sure that your item(s) are available and can be despatched as soon as possible. If your item(s) are available for shipping (within 5 business days), we'll process the charges and prepare to ship your order.
Where do you deliver?
We deliver to the United States of America only.
Cancellations (Before Order Ships)
If you need to cancel an order, please contact us as soon as possible so we can refund you in full before your order leaves the warehouse. Reach agents during business hours at 1-(307) 218 7280, the chat in the bottom right, or email info@inessencehomes.com any time.
Cancellations of Custom Orders
Custom or made to order products cannot be canceled or refunded as these products are put into production specifically for your order.
These units, are custom made to your specification or created once you order. Once you place your order they start building your unit. Your warranty will guarantee you a fully functional and operational product. If it is not clear whether your order is custom or made to order, please message or call us.
All sales are final for Custom made and Made-to-order products.
Refunds and Returns
If you need to exchange your product, you may do so. You, as the customer, are responsible for any shipping costs throughout any returns and exchange processes.
Not all orders are available for return once they have shipped. We order our products directly from the manufacturer. Therefore, if the manufacturer will not permit us to return a product, we cannot offer you a return. This often varies on a case-by-case basis; please reach out to us if you would like specific information on your brand and/or product.
Due to drastically increasing LTL/freight shipping costs, any outright returns will incur 25% cancellation fee + return shipping costs. If you are replacing the product with something else, we may be able to help you cover some of the costs depending on the product.
Shipping Times
We promise to do our best to get your order to you as soon as possible.  We provide estimated shipping times on the product pages based upon what our suppliers and freight companies tell us, and those estimated shipping times may change or vary without notice (Due to supply chain issues, the steel mills behind on making metal, the manufacturers delayed because of the mills, the overwhelmingly demand on shipping, factory/warehouse and dock workers and so on).
Order delays have proven to be unavoidable and outside of In-Essence Homes control. While this might be frustrating, we ask you to please be patient and understanding with us in these tough times. We thank you for your business and appreciate your patience.
Warranty
Warranties vary depending upon the manufacturer - see individual product pages for details. Warranty damages occur over time and from use. If an item was damaged upon arrival, and not reported within 30 days, that is not a warranty claim.
Contact info@inessencehomes.com for any questions.
BY USING THE SITE, YOU AGREE TO THESE TERMS OF USE; IF YOU DO NOT AGREE, DO NOT USE THE SITE.
ABOUT Steamist

Steamist is a leading manufacturer of residential and commercial steam shower systems used primarily in residential showers and commercial spas. Headquartered and manufactured in New Jersey, Steamist is an industry leader for both the quality of their manufacturing and their incredible customer service – available to tradesmen as well as end consumers. For over 75 years, Steamist has been at the forefront of innovation within the industry. Steamist generators produce the most reliable temperatures due to several patented innovations.