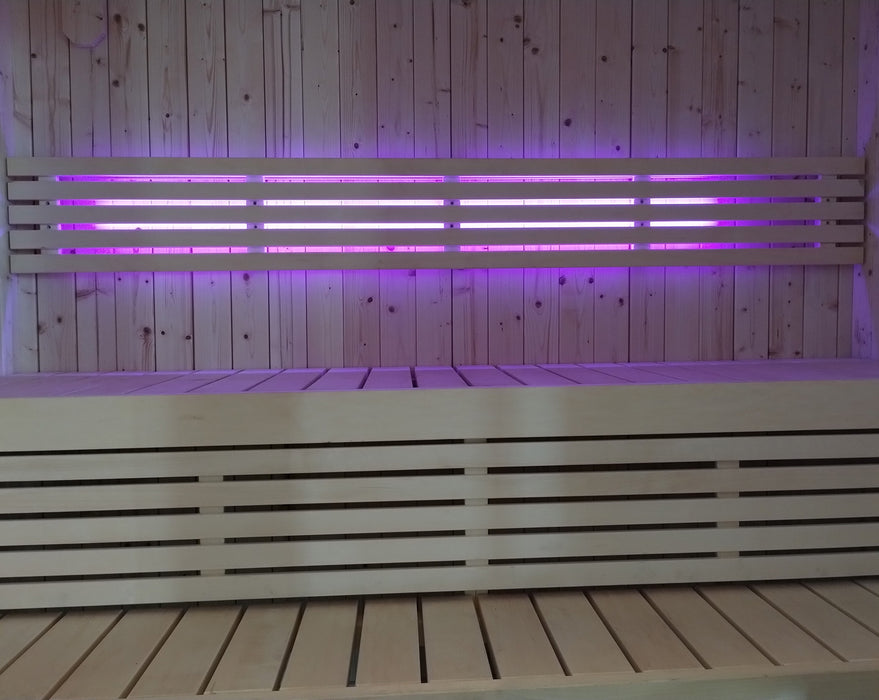 SaunaLife Mood Lighting for Model X7 Sauna
Save

17

%
Save

17

%
Original price
$414.00
-
Original price
$414.00
In Stock & Ready to Ship
All orders are shipped within 1 - 2 business days. Product ETA 5 - 7 business days.
Color LED Light System for SaunaLife X7 Sauna
Elevate your home sauna experience by adding another sensory layer with the SaunaLife X7 MOOD colored LED sauna light system.  
Promotes tranquility
Stimulates the circulatory system
Provides regenerative stimulation to the immune system
Dimmable
App-based Wi-Fi control
Waterproof lighting system
Complete product information below
Description

Features

Includes

Specifications

SAUNA LIFE Warranty & Guides

Shipping & Returns

About SAUNALIFE
DESCRIPTION
XMood 
Elevate your home sauna experience by adding another sensory layer with the SaunaLife X6 MOOD colored LED sauna light system.  
Bathe in tranquil color 
A transcendent sauna experience captivates multiple senses to relax and rejuvenate the bather. Create a mood that ranges from calming to invigorating from the infinite range of vivid RGB colors of the XMood color sauna lighting system. All the wellness benefits of chromotherapy are at your fingertips as you shift seamlessly through the color spectrum.  
Add elegance to your sauna 
The XMood mounts behind the backrests of your SaunaLife XPERIENCE-Series home sauna to elegantly illuminate the room with indirect colored light. These premium-quality LED lights are dotless for a smooth, even glow and more refined appearance. 
Engineered for use in saunas 
Durability and longevity are built into the XMood. These advanced sauna light bars are IP67-rated for use in wet conditions, so they'll stand up to the extreme humidity and head of your sauna.  X6 MOOD lighting is controlled using an app-based Wi-Fi control so you can control the color settings while you relax. 
Enjoy a lifetime of serenity and wellness in your own home and Live the SaunaLife! 
FEATURES
Promotes tranquility
Stimulates the circulatory system
Provides regenerative stimulation to the immune system
Dimmable
App-based Wi-Fi control
Waterproof lighting system
Handheld remote (Not waterproof)
INCLUDES
LED Light Bar
Handheld Remote Control
Installation and Operation Manual 
SPECIFICATIONS
| Model | X7 MOOD |
| --- | --- |
| RF Handheld Control  | RGB  |
| Operating Voltage  | 3VDC (CR2032)  |
| Power Consumption  | 5mA  |
| Output Signal  | RF (2.4GHz)  |
| Dimming Range   | 1% - 100%  |
| Signal Distance  | 98FT  |
| Dimensions  | 5.47"L x 1.41"W x .43"H  |
| Operating Temperature  | -22°F - 131°F  |
| Control Finish  | Black  |
| IP Rating  | IP20  |
| Certification  | CE, EMC, LVD, RED  |
| RF/WIFI Driver  | |
| Input Voltage  | 24VDC  |
| Rated Out Current  | 5CH, 3A/CH Constant Voltage  |
| Output Voltage  | 12vdc - 24vdc  |
| Max Output Power  | 5CH X 72W  |
| Dimensions  | 4.48"L x 1.49"W x .78"H  |
| Operating Temperature  | -22°F - 131°F  |
| IP Rating  | IP20  |
| Certification  | CE, EMC, LVD, RED  |
| Power Supply  | |
| Input Voltage  | 120VAC  |
| Output Voltage  | 24VDC  |
| Rated Power  | 90W  |
| AC Current  | 1.3A  |
| DC Current  | 3.75A  |
| Operating Temperature  | -22° - 158°  |
| Certification  | UL, CE, FCC  |
SAUNA LIFE Warranty & Guides
SAUNA LIFE SAUNA LIMITED LIFETIME WARRANTY 
Sauna Life extends this Limited Warranty solely to the original retail consumer purchaser of any Sauna Life sauna purchased from one of its authorized resellers.
LIMITED LIFETIME SAUNA WARRANTY 
Sauna Life warrants that the Sauna Life sauna shall be free from defects in workmanship under normal conditions of use and service for the lifetime of the sauna for residential applications after delivery to the original retail purchaser. This warranty is limited to making good any factory assembled component which in the judgement of Sauna Life is deemed defective in workmanship. The warranty does not cover normal material wear, natural weathering of the lumber, or installation or delivery of components and applies only to the original retail purchaser. 
WARRANTY PERFORMANCE 
For any warranty service, Sauna Life reserves the right to choose, at its option, repair of the problem or a replacement of the defective part. Sauna Life reserves the right to substitute a part or component of equivalent value, either new or factory reconditioned, and any such repair or replacement shall assume as its warranty only the remaining portion of the warranty on the original product. In the event Sauna Life chooses to repair any malfunction or defect covered by this warranty, a return authorization will be issued, and the component will be returned prepaid freight to Sauna Life for repair of the defect. Sauna Life will then ship the component back the original retail purchaser upon completion of the repair. Prior to any return, contact Sauna Life at: Sauna Life, 511 Glenn Avenue, Wheeling, Illinois 60090, telephone number: (800) 957-2862, for packaging and shipping instructions and a return authorization number. In addition, Sauna Life will require photographs of any defect and reserves the right to inspect or designate an agent to inspect any part that is claimed to be defective and covered by this warranty. Labor charges and related expenses for removal, installation, or replacement of the sauna or its components are not covered under this warranty. Normal wear and tear, cosmetic issues or changes to individual pieces of lumber due to natural aging and weathering are not covered. Sauna heaters and added components are not covered by this warranty. 
ACTS INVALIDATING WARRANTY
This warranty is void if the Sauna Life sauna has been subject to alteration, misuse or abuse, commercial use, or if any repairs on the sauna are attempted by anyone other than an authorized representative of Sauna Life. Alteration shall include, but is not limited to, deviation from the original assembly instructions, component change, or the addition of any non-approved device or heating system, which contributes to a component or unit failure, or unsafe operating system. Use of the sauna in an application for which it is not designed will void this warranty. This includes, but is not limited to, damage caused by operation above safe sauna operating temperatures, damage caused by added components, damage to the sauna's surface caused by harsh chemicals, damage caused by movement of the product, and damage caused by acts of God. 
DISCLAIMERS 
Except as expressly provided above, Sauna Life makes no other representation or warranty, express or implied, either in fact or operation of law, statute, or otherwise, and Sauna Life specifically disclaims any and all implied or statutory warranties, including warranties or merchantability and of fitness for a particular purpose. Sauna Life shall not be liable for loss of use of the Sauna Life sauna or other incidental or consequential costs, expenses, or damage, which may include but are not limited to, the removal of or reinstallation of a wall, deck or other fixture, water leakage, costs of shipping or packaging, applicable taxes, or the payment of any costs or expenses of disassembly, removal, or reinstallation of the product or any part. Your rights may vary from state to state. Under no circumstances shall Sauna Life or its representatives be held liable for injury to any person or damage to any property, however arising, even if caused by the Sauna Life Sauna or its representatives' negligence. No distributor, salesperson, dealer, retailer, or other representative of Sauna Life has the authority to alter or change these warranties either orally or in writing. 
SHIPPING & RETURNS
Cancellations & Refunds: At In-Essence Homes, we pride ourselves on having the best return policies in the industry. Cancel your order any time before it ships completely free of charge (exceptions apply such as custom orders, see below).
If you have questions, please send an email to info@inessencehomes.com or call us at 1-(307) 218 7280
Will I get confirmation of my order?
As soon as we receive your order, we'll send out confirmation to your email address, this just means we've received your order in our system and we've pre-authorised your payment method ready for your purchase.
What happens after I receive my order confirmation?
We check with our warehouse or suppliers to make sure that your item(s) are available and can be despatched as soon as possible. If your item(s) are available for shipping (within 5 business days), we'll process the charges and prepare to ship your order.
Where do you deliver?
We deliver to the United States of America only.
Cancellations (Before Order Ships)
If you need to cancel an order, please contact us as soon as possible so we can refund you in full before your order leaves the warehouse. Reach agents during business hours at 1-(307) 218 7280, the chat in the bottom right, or email info@inessencehomes.com any time.
Cancellations of Custom Orders
Custom or made to order products cannot be canceled or refunded as these products are put into production specifically for your order.
These units, are custom made to your specification or created once you order. Once you place your order they start building your unit. Your warranty will guarantee you a fully functional and operational product. If it is not clear whether your order is custom or made to order, please message or call us.
All sales are final for Custom made and Made-to-order products.
Refunds and Returns
If you need to exchange your product, you may do so. You, as the customer, are responsible for any shipping costs throughout any returns and exchange processes.
Not all orders are available for return once they have shipped. We order our products directly from the manufacturer. Therefore, if the manufacturer will not permit us to return a product, we cannot offer you a return. This often varies on a case-by-case basis; please reach out to us if you would like specific information on your brand and/or product.
Due to drastically increasing LTL/freight shipping costs, any outright returns will incur 25% cancellation fee + return shipping costs. If you are replacing the product with something else, we may be able to help you cover some of the costs depending on the product.
Shipping Times
We promise to do our best to get your order to you as soon as possible.  We provide estimated shipping times on the product pages based upon what our suppliers and freight companies tell us, and those estimated shipping times may change or vary without notice (Due to supply chain issues, the steel mills behind on making metal, the manufacturers delayed because of the mills, the overwhelmingly demand on shipping, factory/warehouse and dock workers and so on).
Order delays have proven to be unavoidable and outside of In-Essence Homes control. While this might be frustrating, we ask you to please be patient and understanding with us in these tough times. We thank you for your business and appreciate your patience.
Warranty
Warranties vary depending upon the manufacturer - see individual product pages for details. Warranty damages occur over time and from use. If an item was damaged upon arrival, and not reported within 30 days, that is not a warranty claim.
Contact info@inessencehomes.com for any questions.
BY USING THE SITE, YOU AGREE TO THESE TERMS OF USE; IF YOU DO NOT AGREE, DO NOT USE THE SITE.
Our Shipping Partners
ABOUT SAUNALIFE
SaunaLife was founded by a group of enthusiasts who are passionate about sauna and are committed to sharing their knowledge of its life-changing benefits, who dedicated themselves to growing awareness of sauna bathing in America.
Recognizing the high costs of home sauna construction, SaunaLife turned to the birthplace of sauna to uncover Scandinavian materials, designs, and construction techniques to create sauna spaces in the essence of the "Nordic way".
SaunaLife DIY indoor and outdoor saunas are constructed with beautiful woods from Northern Europe and embody the Scandinavian passion for sauna heritage and craft. Our wooden materials are sustainably sourced, more durable, and lower in price. Our tireless efforts have significantly reduced construction time and costs, while improving quality.
SaunaLife invites you to reach out and learn more about how you can Live the SaunaLife!