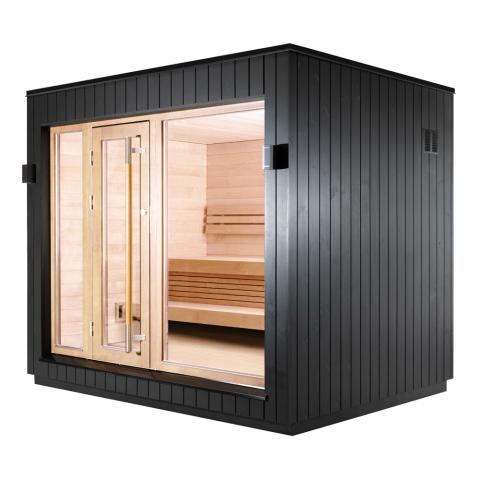 SaunaLife Model G7S Pre-Assembled Outdoor Home Sauna
Save

17

%
Save

17

%
Original price
$34,680.00
Original price
$34,680.00
-
Original price
$34,680.00
Original price
$34,680.00
In Stock & Ready to Ship
All orders are shipped within 1 - 2 business days. Product ETA 5 - 7 business days.
Garden-Series Fully Assembled Backyard Home Sauna with Bluetooth Audio, Up to 6 Persons
The fully assembled GARDEN-Series Model G7S is SaunaLife's largest outdoor home sauna cabin and represents the pinnacle of uncompromised quality and luxury. This is not a kit! 
Luxury outdoor sauna environment 
Fully assembled for significant construction savings  
Premium, furniture-grade Alder interior 
Thermo-Pine exterior cladding (painted black) 
Full double-glazed, clear tempered glass front wall for stunning sauna bathing views 
Exceptionally luxurious and solid sauna door  
Substantial natural Oak and stainless steel door handle 
Bluetooth speakers (1 pair) 
Complete product information, related sauna heaters, and shipping information below
Description

Features

Includes

Specifications

Product Manual

SAUNA LIFE Warranty & Guides

Shipping & Returns

About SAUNALIFE
DESCRIPTION
Model G7S Fully Assembled Outdoor Sauna Environment  
The fully assembled GARDEN-Series Model G7S is SaunaLife's largest outdoor home sauna cabin and represents the pinnacle of uncompromised quality and luxury. This is not a kit! 
Spacious and comfortable 
The 6-person Model G7S is a luxurious outdoor home sauna made with premium materials for incredible warmth, beauty, and bather comfort. The fine, furniture-quality alder interior features two-tier benches for optimal bathing comfort and versatility. A massive, vault-thick dual-pane locking door crafted from satin-smooth alder is bordered by dual-pane insulated sidelight windows creating a full glass front, providing a sense of openness and a peerless view of the outdoors. From floor to ceiling, this sauna is designed to cocoon the bather in warmth and comfort.  
Impressively robust construction 
From any angle, it is obvious that this sauna was built without compromise. Its finely sawn, painted spruce exterior beautifully contrasts the rich alder interior. Insulated walls and double-glazed insulated glass ensure maximum thermal efficiency. A rainwater system protects the Model G7S from the elements. This is a serious sauna, built for a lifetime of personal health and wellness. 
Precision engineered and crafted 
The Model G7S sauna was designed by true sauna enthusiasts to create a complete, ready to use backyard sauna with impeccable attention to detail. The Model G7S is hand-crafted in Northern Europe, where sauna bathing is a daily health ritual for millions. The natural oak and stainless door handle is both beautiful and robust, and the hinges are of the highest quality.  The interior is constructed with no visible fasteners for a professional, finished look and feel. The Model G7S impresses at any angle. 
Add the dimension of music 
The Model G7S adds another sensory dimension to your wellness ritual: digital streaming music! The G7S features Bluetooth capability so you can steam your favorite music to create an environment that can be calming, invigorating, rejuvenating, or wherever your mood takes you. Sauna is all about experience and stimulating the senses, and music will truly elevate your level of enjoyment.  
Beautifully illuminated 
The calming beauty of the natural wood adds a layer of serenity to your sauna experience, and the soft illumination from indirect LED lighting will elevate this effect. The Model G7S includes a low-voltage, waterproof white LED lighting system that uses app-based Wi-Fi, allowing you to set the perfect ambiance. A hand-held remote control is also provided for on/off/dim operation. This heat and water certified (IP67), SaunaLife features dotless LEDs for a modern, upscale appearance.  
Timeless beauty 
Form meets function with the SaunaLife G7S. This handsome sauna will complement any style home with its classical lines and simple elegance. Every detail of this sauna cabin exudes quality craftsmanship and thoughtful design. 
Enjoy a lifetime of wellness in your own backyard and Live the SaunaLife! 
FEATURES
Model G7S Fully Assembled Outdoor Sauna Environment  
Luxury outdoor sauna environment 
Fully assembled for significant construction savings  
Premium, furniture-grade Alder interior 
Thermo-Pine exterior cladding (painted black) 
Full double-glazed, clear tempered glass front wall for stunning sauna bathing views 
Exceptionally luxurious and solid sauna door  
Substantial natural Oak and stainless steel door handle 
Bluetooth speakers (1 pair) 
Massive 8" wall thickness for enhanced insulation and acoustical properties   
Mood setting interior LED dimmable bar lighting behind backrest and under benches 
Wi-Fi app or remote-controlled interior sauna lighting operation 
Exterior, front wall light sconces for outside ambiance (2) 
Outdoor sauna control and electrical boxes for watertight equipment installation (IP67 rating) 
PVC subflooring with comfortable Alder wood floor grate 
Slanted roof with rainwater control system 
Up to 6 bathers 
Exterior dimensions - 86-½" deep, 110-¼" wide, and 98" high 
Interior dimensions - 71-½" deep, 94-½" wide, and 76" high 
Designed by SaunaLife and handcrafted in Northern Europe 
INCLUDES
Model G7S Fully Assembled Outdoor Sauna Environment 
Fully assembles outdoor luxury sauna 
Upper and lower benches 
Flooring grate  
Rainwater control system 
Pre-wired LED Lighting system (Wi-Fi or remote controlled) 
SaunaGear 300 Outdoor Sauna Control Box 
SaunaGear 302 Outdoor Sauna Electrical Box 
Installation instructions 
SPECIFICATIONS
| Model | Model G7S |
| --- | --- |
| Exterior Materials | Thermo-Pine, painted black |
| Interior Materials | 71-1/2"D x 94-1/2"W x 76"H |
| Exterior Dimensions | 86-1/2"D x 110-1/4"W x 98"H |
| Window Wall Small (Width) | 19 11/16" |
| Window Wall Large (Width) | 44 7/8" |
| Window Glass Thickness | 1.1" |
| Window Glass Type | Double-paned, tempered |
| Door Handle | 63" L x 2" Diameter |
| Front Wall | Clear Glass Windows and Door |
| Bench | Alder |
| Interior Lights | LED |
| Exterior Lights | LED |
| Bluetooth Speakers | Yes |
| Floor | Alder |
| Rainwater System | Yes |
| Shipping Dimensions | 92"L x 114"W x 100"H |
| Shipping Weight | 3528 lbs |
SAUNA LIFE Warranty & Guides
SAUNA LIFE SAUNA LIMITED LIFETIME WARRANTY 
Sauna Life extends this Limited Warranty solely to the original retail consumer purchaser of any Sauna Life sauna purchased from one of its authorized resellers.
LIMITED LIFETIME SAUNA WARRANTY 
Sauna Life warrants that the Sauna Life sauna shall be free from defects in workmanship under normal conditions of use and service for the lifetime of the sauna for residential applications after delivery to the original retail purchaser. This warranty is limited to making good any factory assembled component which in the judgement of Sauna Life is deemed defective in workmanship. The warranty does not cover normal material wear, natural weathering of the lumber, or installation or delivery of components and applies only to the original retail purchaser. 
WARRANTY PERFORMANCE 
For any warranty service, Sauna Life reserves the right to choose, at its option, repair of the problem or a replacement of the defective part. Sauna Life reserves the right to substitute a part or component of equivalent value, either new or factory reconditioned, and any such repair or replacement shall assume as its warranty only the remaining portion of the warranty on the original product. In the event Sauna Life chooses to repair any malfunction or defect covered by this warranty, a return authorization will be issued, and the component will be returned prepaid freight to Sauna Life for repair of the defect. Sauna Life will then ship the component back the original retail purchaser upon completion of the repair. Prior to any return, contact Sauna Life at: Sauna Life, 511 Glenn Avenue, Wheeling, Illinois 60090, telephone number: (800) 957-2862, for packaging and shipping instructions and a return authorization number. In addition, Sauna Life will require photographs of any defect and reserves the right to inspect or designate an agent to inspect any part that is claimed to be defective and covered by this warranty. Labor charges and related expenses for removal, installation, or replacement of the sauna or its components are not covered under this warranty. Normal wear and tear, cosmetic issues or changes to individual pieces of lumber due to natural aging and weathering are not covered. Sauna heaters and added components are not covered by this warranty. 
ACTS INVALIDATING WARRANTY
This warranty is void if the Sauna Life sauna has been subject to alteration, misuse or abuse, commercial use, or if any repairs on the sauna are attempted by anyone other than an authorized representative of Sauna Life. Alteration shall include, but is not limited to, deviation from the original assembly instructions, component change, or the addition of any non-approved device or heating system, which contributes to a component or unit failure, or unsafe operating system. Use of the sauna in an application for which it is not designed will void this warranty. This includes, but is not limited to, damage caused by operation above safe sauna operating temperatures, damage caused by added components, damage to the sauna's surface caused by harsh chemicals, damage caused by movement of the product, and damage caused by acts of God. 
DISCLAIMERS 
Except as expressly provided above, Sauna Life makes no other representation or warranty, express or implied, either in fact or operation of law, statute, or otherwise, and Sauna Life specifically disclaims any and all implied or statutory warranties, including warranties or merchantability and of fitness for a particular purpose. Sauna Life shall not be liable for loss of use of the Sauna Life sauna or other incidental or consequential costs, expenses, or damage, which may include but are not limited to, the removal of or reinstallation of a wall, deck or other fixture, water leakage, costs of shipping or packaging, applicable taxes, or the payment of any costs or expenses of disassembly, removal, or reinstallation of the product or any part. Your rights may vary from state to state. Under no circumstances shall Sauna Life or its representatives be held liable for injury to any person or damage to any property, however arising, even if caused by the Sauna Life Sauna or its representatives' negligence. No distributor, salesperson, dealer, retailer, or other representative of Sauna Life has the authority to alter or change these warranties either orally or in writing. 
SHIPPING & RETURNS
Cancellations & Refunds: At In-Essence Homes, we pride ourselves on having the best return policies in the industry. Cancel your order any time before it ships completely free of charge (exceptions apply such as custom orders, see below).
If you have questions, please send an email to info@inessencehomes.com or call us at 1-(307) 218 7280
Will I get confirmation of my order?
As soon as we receive your order, we'll send out confirmation to your email address, this just means we've received your order in our system and we've pre-authorised your payment method ready for your purchase.
What happens after I receive my order confirmation?
We check with our warehouse or suppliers to make sure that your item(s) are available and can be despatched as soon as possible. If your item(s) are available for shipping (within 5 business days), we'll process the charges and prepare to ship your order.
Where do you deliver?
We deliver to the United States of America only.
Cancellations (Before Order Ships)
If you need to cancel an order, please contact us as soon as possible so we can refund you in full before your order leaves the warehouse. Reach agents during business hours at 1-(307) 218 7280, the chat in the bottom right, or email info@inessencehomes.com any time.
Cancellations of Custom Orders
Custom or made to order products cannot be canceled or refunded as these products are put into production specifically for your order.
These units, are custom made to your specification or created once you order. Once you place your order they start building your unit. Your warranty will guarantee you a fully functional and operational product. If it is not clear whether your order is custom or made to order, please message or call us.
All sales are final for Custom made and Made-to-order products.
Refunds and Returns
If you need to exchange your product, you may do so. You, as the customer, are responsible for any shipping costs throughout any returns and exchange processes.
Not all orders are available for return once they have shipped. We order our products directly from the manufacturer. Therefore, if the manufacturer will not permit us to return a product, we cannot offer you a return. This often varies on a case-by-case basis; please reach out to us if you would like specific information on your brand and/or product.
Due to drastically increasing LTL/freight shipping costs, any outright returns will incur 25% cancellation fee + return shipping costs. If you are replacing the product with something else, we may be able to help you cover some of the costs depending on the product.
Shipping Times
We promise to do our best to get your order to you as soon as possible.  We provide estimated shipping times on the product pages based upon what our suppliers and freight companies tell us, and those estimated shipping times may change or vary without notice (Due to supply chain issues, the steel mills behind on making metal, the manufacturers delayed because of the mills, the overwhelmingly demand on shipping, factory/warehouse and dock workers and so on).
Order delays have proven to be unavoidable and outside of In-Essence Homes control. While this might be frustrating, we ask you to please be patient and understanding with us in these tough times. We thank you for your business and appreciate your patience.
Warranty
Warranties vary depending upon the manufacturer - see individual product pages for details. Warranty damages occur over time and from use. If an item was damaged upon arrival, and not reported within 30 days, that is not a warranty claim.
Contact info@inessencehomes.com for any questions.
BY USING THE SITE, YOU AGREE TO THESE TERMS OF USE; IF YOU DO NOT AGREE, DO NOT USE THE SITE.
Our Shipping Partners
ABOUT SAUNALIFE
SaunaLife was founded by a group of enthusiasts who are passionate about sauna and are committed to sharing their knowledge of its life-changing benefits, who dedicated themselves to growing awareness of sauna bathing in America.
Recognizing the high costs of home sauna construction, SaunaLife turned to the birthplace of sauna to uncover Scandinavian materials, designs, and construction techniques to create sauna spaces in the essence of the "Nordic way".
SaunaLife DIY indoor and outdoor saunas are constructed with beautiful woods from Northern Europe and embody the Scandinavian passion for sauna heritage and craft. Our wooden materials are sustainably sourced, more durable, and lower in price. Our tireless efforts have significantly reduced construction time and costs, while improving quality.
SaunaLife invites you to reach out and learn more about how you can Live the SaunaLife!