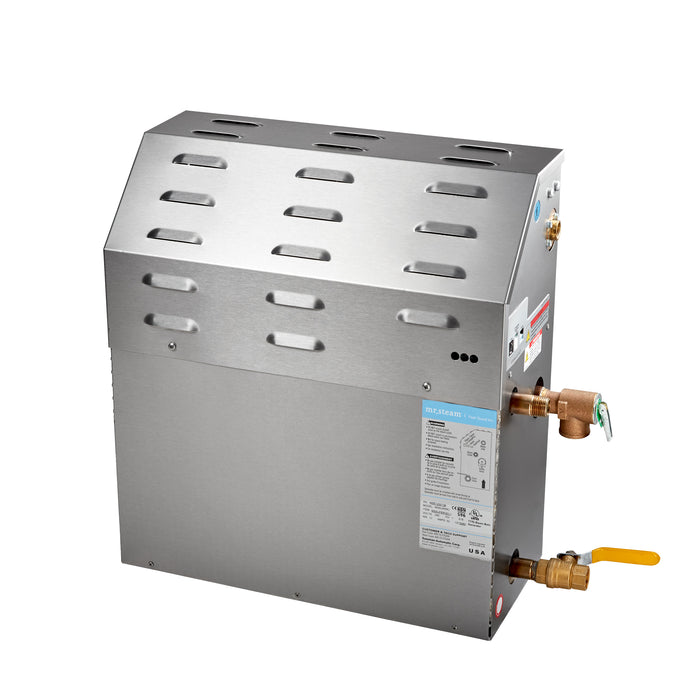 Mr. Steam MS-E Series 10kW Steam Shower Generator | MSSUPER1E
Save

17

%
Save

17

%
Original price
$3,444.00
-
Original price
$3,759.00
In Stock & Ready to Ship
All orders are shipped within 1 - 2 business days. Product ETA 5 - 7 business days.
MS-E Series 10kW Steam Shower Generator
The Mr. Steam MS Super 1E home steam shower generator is engineered for residential steam rooms up to 339 adjusted cubic feet (ACF). 
Required control package sold separately.
Description

Features

Includes

Required for Operation

Specifications

MR.STEAM Warranty & Guides

Shipping & Returns

About MR.STEAM
DESCRIPTION
If you see a lower price on the Mr. Steam MS Super 1E steam generator, call us, and we'll match it, plus 10% of the difference!
The Mr. Steam MS Super 1E is engineered for home steam rooms up to 339 adjusted cubic feet (ACF).
The steam unit includes a stainless-steel tank, industrial-grade and fully serviceable heating elements, full-port drain valve, electronic water-level control system, LED color indicators for self-diagnostics, and a variety of other features.
When engineering this generator, Mr. Steam focused on providing the most consistent bathing experience. The MS Super 1E generator is constructed of durable stainless steel throughout and runs off an advanced microprocessor platform.
The unit is equipped with Mr. Steam's unique AutoSteam water temperature equalization chamber which ensures a continuous steam production. The MS Super 1E uses less than two gallons of water for a typical 20-minute steam bathing session, making it both eco-conscious and economical.
The compact MS Super 1E steam shower unit can be installed up to 60 feet away from the steam room, even on another floor. Typical installation locations include closets, cabinets, and vanities. The generator is perfect for residential and smaller commercial applications.
The optional Express Steam feature includes a built-in thermostat that that maintains water temperature so that you may start steaming quickly.
The Mr. Steam MS-SUPER 1E 10kW steam generator is available in 208V (MSSUPER1EB1) and 240V (MSSUPER1EC1) single-phase (1PH) configurations. MS-e Series generators are available in a variety of power ratings to best suit your needs.
The MS Super 1E requires the use of an available Mr. Steam control or control package for operation. Controls allow you to adjust steam shower functionality such as temperature and duration.
We recommend Mr. Steam's Auto Flush Automatic Draining System with your MS Super 1E. The automatic Auto Drain system automatically cleans the generator tank after each bathing session to help prevent mineral build-up and to ensure the longevity of the unit.
The MrSteam MS Super 1E steam bath generator carries a limited lifetime warranty and is fully serviceable. All Mr. Steam residential steam generators are made in the USA. MS generators are US and Canadian UL listed and CE and NOM certified for your safety.
SteamSaunaBath is proud to be an authorized Mr. Steam partner and offer the best steam showers from Mr. Steam for homes and health clubs.
We guarantee the lowest price. If you see this steam shower for sale at a lower price, give us a call, we'll match it! See our guaranteed lowest price policy for details.
SteamSaunaBath is the bathing environment expert. We specialize in sauna and steam room design, sales, installation, maintenance, and repair services. Our half-century of hands-on experience means that we are uniquely qualified to ensure the success of your bathing space and an unparalleled steam bathing experience. Contact a SteamSaunaBath technical bathing specialist to help you build your steam room: (800) 707-2862.
FEATURES
For steam baths sized from 258 to 339 adjusted cubic feet
Available in 240V and 208V operation
Stainless Steel tank
Industrial-grade, serviceable heating element
MiniDIN control connections
Available Auto Drain automatic draining system
Durable electronic components
Electronic water-level control system
Low-voltage safety control circuits
Solid-state circuitry
Diagnostic LED Displays
Full port drain valve
ASME safety valve
UL/CUL/NOM/CE Listed
INCLUDES
10kW Steam bath generator, 17"L x 7-7/8"W x 18-3/4"H
Installation and operation manual
Limited warranty
REQUIRED FOR OPERATION
Mr.Steam MSITEMPO
Digital 60-Minute Steam Shower Control Package
Mr.Steam MSITPLUS
Digital Time/Temp Steam Shower Control Package
Mr.Steam AIRT
AirTempo Wireless Steam Shower Control Package
Mr.Steam BBUTLER
MSITEMPO Operating Package for MS/SUPER Series
Mr.Steam BBUTLERL
MSITEMPO Operating Package w/ Linear Head for MS/SUPER Series
Mr.Steam MSBUTLER1
MSITPLUS Operating Package for MS/SUPER Series
Mr.Steam BTLRL1
MSITPLUS Operating Package w/ Linear Head for MS/SUPER Series
Mr.Steam ABUTLER1
AIRT Operating Package for MS/SUPER Series
Mr.Steam ABTLRL
AIRT Operating Package w/ Linear Head for MS/SUPER Series
SPECIFICATIONS
| Model | MS SUPER-1E |
| --- | --- |
| Minimum Adjusted Cubic Feet | 258 |
| Maximum Adjusted Cubic Feet | 339 |
| Shipping Weight (Lbs.) | 40 lbs |
| Kilowatt Rating (KW) | 10.0 KW |
| Electrical Specifications | (refer to Electrical chart) |
| Water Supply Connection | 3/8" NPT |
| Steam Head Connection | 1/2" NPT |
| Drain Connection | 1/2" NPT |
| Safety Relief Valve Connection | 3/4" NPT |
| Safety Relief Valve PSIG | 15 PSIG |
| Control "Rough In" Cut Out | 1" |
| Generator Control Connection | 8-Pin Mini-DIN Connector |
| Generator Control Cable | 30', 8 Conductor, 24 AWG, Shielded Cable |
| Width | 17" |
| Depth | 7-7/8" |
| Height | 18-1/2" |
MR.STEAM Warranty & Guides
MR.STEAM WARRANTY Details
Limited Lifetime Warranty for MrSteam Residential Steambath Generator Products Installed in the United States or Canada.
Limited Lifetime Warranty for MrSteam® Residential Steambath Generators
MrSteam® warrants that every MrSteam Residential Steambath Generator ("Generator") will be free from defects in materials and workmanship for its lifetime. MrSteam will repair or replace (at its option) a Generator which fails to conform to this warranty.
Warranty Service within 2 years from date of purchase
If the warranty claim is made within two years from the date of purchase of the Generator, MrSteam will provide free in-home warranty service, parts and labor.
Warranty Service after 2 years from date of purchase
If the warranty claims is made after two years from the date of purchase of the Generator, MrSteam will provide a life- time warranty on parts.
To return a Generator to MrSteam, a Return Authorization Number (RMA) must be issued. An RMA and other required information must be written on the return pack- aging as instructed by MrSteam.
If MrSteam issues an RMA, MrSteam will pay the freight charges to ship the Generator to MrSteam and for MrSteam to return a repaired or replacement Generator.
Note:
If in the judgement of MrSteam the defect is not covered by this warranty, the costs of any in-home service as well as the costs of repair or replacement together with all freight charges will be the responsibility of the claimant.
To obtain warranty service, please call 1-800-76-STEAM (East Coast) or 1-800-72-STEAM (West Coast).
Terms, Conditions, and Exclusions

This warranty does not apply to a Generator that is or has been:
Used in any non-residential setting.
Damage by lightning, electrical storms or electrical surges or spikes.
Damaged by reason of local water conditions.
Installed or operated other than in accordance with the MrSteam supplied Installation, Operation and Maintenance Manual.
Purchased from an unauthorized online e-tailer seller. For a list of authorized e-tailers, go to: mrsteam.com or call (800) 767-8326.
This warranty applies to Generators purchased and installed in the United States and Canada only. This warranty does not cover any costs to remove or reinstall the Generator. All freight charges must be pre- approved by MrSteam. This warranty is for the Generator only. See the applicable warranty for MrSteam controls and accessories. This warran- ty applies only to Generators purchased on or after January 1st, 2012.
THE FOREGOING IS IN LIEU OF OTHER EXPRESS AND ALL IMPLIED WARRANTIES. THERE ARE NO WARRANTIES WHICH EXTEND BEYOND THE DESCRIPTION CONTAINED HEREIN AND SPECIFICAL- LY LIABILITY FOR ANY BREACH OF ANY IMPLIED WARRANTY OF MERCHANTABILITY OR FITNESS FOR A PARTICULAR PURPOSE IS EXCLUDED. THE DURATION OF ANY WARRANTIES WHICH MAY BE IMPLIED BY LAW NOTWITHSTANDING THE PREVIOUS SENTENCE (INCLUDING THE WARRANTIES OF MERCHANTABILITY AND FITNESS FOR A PARTICULAR PURPOSE) SHALL IN NO EVENT EXCEED ONE YEAR. IN NO EVENT SHALL MRSTEAM BE LIABLE FOR SPECIAL, INCI- DENTAL, OR CONSEQUENTIAL DAMAGES ARISING FROM OWNER- SHIP OR USE OF ANY MRSTEAM PRODUCT OR FOR ANY DELAY IN THE PERFORMANCE OF ITS OBLIGATIONS UNDER THIS WARRANTY DUE TO CAUSES BEYOND ITS CONTROL.
Some states do not allow limitations on how long an implied warranty lasts and/or do not allow the exclusion or limitation of consequential damages, so the above limitations and exclusions may not apply to you. This warranty gives you specific legal rights. You may have other rights, which vary from state to state.
SHIPPING & RETURNS
Cancellations & Refunds: At In-Essence Homes, we pride ourselves on having the best return policies in the industry. Cancel your order any time before it ships completely free of charge (exceptions apply such as custom orders, see below). 
If you have questions, please send an email to info@inessencehomes.com or call us at 1-(307) 218 7280
Will I get confirmation of my order?
As soon as we receive your order, we'll send out confirmation to your email address, this just means we've received your order in our system and we've pre-authorised your payment method ready for your purchase.
What happens after I receive my order confirmation?
We check with our warehouse or suppliers to make sure that your item(s) are available and can be despatched as soon as possible. If your item(s) are available for shipping (within 5 business days), we'll process the charges and prepare to ship your order. 
Where do you deliver?
We deliver to the United States of America only.
Cancellations (Before Order Ships)
If you need to cancel an order, please contact us as soon as possible so we can refund you in full before your order leaves the warehouse. Reach agents during business hours at 1-(307) 218 7280, the chat in the bottom right, or email info@inessencehomes.com any time. 
Cancellations of Custom Orders
Custom or made to order products cannot be canceled or refunded as these products are put into production specifically for your order. 
These units, are custom made to your specification or created once you order. Once you place your order they start building your unit. Your warranty will guarantee you a fully functional and operational product. If it is not clear whether your order is custom or made to order, please message or call us. 
All sales are final for Custom made and Made-to-order products.
Refunds and Returns
If you need to exchange your product, you may do so. You, as the customer, are responsible for any shipping costs throughout any returns and exchange processes. 
Not all orders are available for return once they have shipped. We order our products directly from the manufacturer. Therefore, if the manufacturer will not permit us to return a product, we cannot offer you a return. This often varies on a case-by-case basis; please reach out to us if you would like specific information on your brand and/or product. 
Due to drastically increasing LTL/freight shipping costs, any outright returns will incur 25% cancellation fee + return shipping costs. If you are replacing the product with something else, we may be able to help you cover some of the costs depending on the product. 
Shipping Times
We promise to do our best to get your order to you as soon as possible.  We provide estimated shipping times on the product pages based upon what our suppliers and freight companies tell us, and those estimated shipping times may change or vary without notice (Due to supply chain issues, the steel mills behind on making metal, the manufacturers delayed because of the mills, the overwhelmingly demand on shipping, factory/warehouse and dock workers and so on). 
Order delays have proven to be unavoidable and outside of In-Essence Homes control. While this might be frustrating, we ask you to please be patient and understanding with us in these tough times. We thank you for your business and appreciate your patience.
Warranty
Warranties vary depending upon the manufacturer - see individual product pages for details. Warranty damages occur over time and from use. If an item was damaged upon arrival, and not reported within 30 days, that is not a warranty claim.
Contact info@inessencehomes.com for any questions.
BY USING THE SITE, YOU AGREE TO THESE TERMS OF USE; IF YOU DO NOT AGREE, DO NOT USE THE SITE.
Our Shipping Partners
ABOUT MR.STEAM
Steam is in MrSteam's DNA. We have over 100 years of experience in steam manufacturing, which means we know a thing or two (or hundreds) about making the highest quality steam shower products. MrSteam is not just about the products it offers; it is about a mission we want to share with people around the world. One that reminds, empowers and enables us all to be healthy, live happy, and feel good. That's why we always say, "we feel good when you feel good."