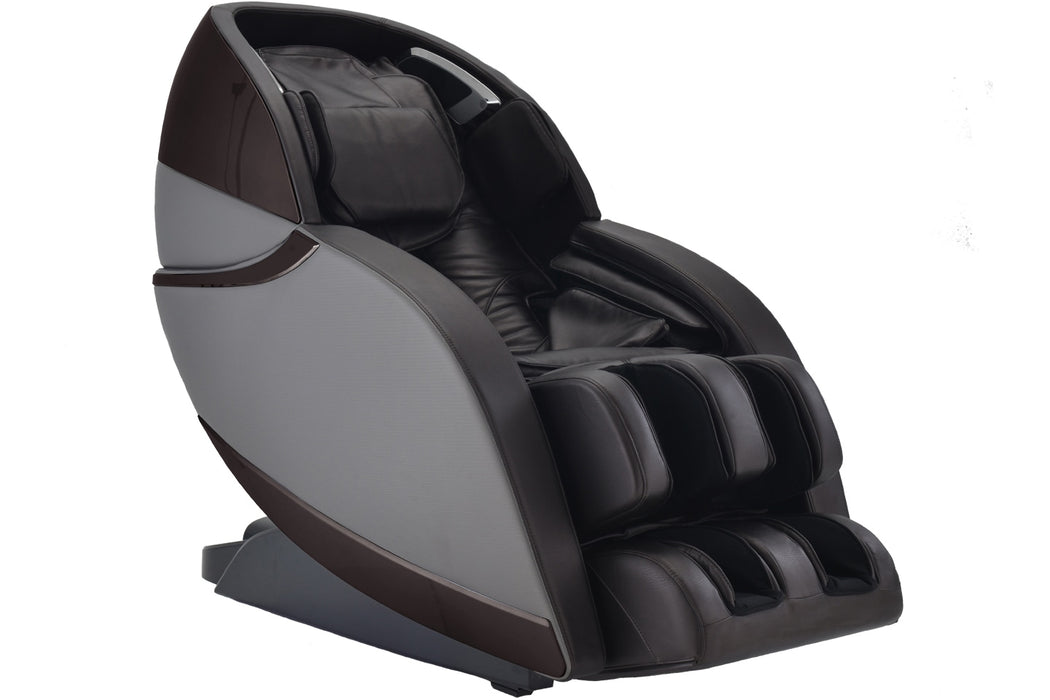 Infinity Evolution 3D/4D Massage Chair
Save

17

%
Save

17

%
Original price
$10,798.80
Original price
$10,798.80
-
Original price
$10,798.80
Original price
$10,798.80
In Stock & Ready to Ship
All orders are shipped within 1 - 2 business days. Product ETA 5 - 7 business days.
Infinity Evolution 3D/4D Massage Chair
The Infinity Evolution 3D/4D brings the benefits of spa massage home for daily care. With the latest technology and top quality materials feeling great every day never looked so good.
Description

Features

Specifications

Video

Product Manuals

 Infinity Warranty

Shipping & Returns

About INFINITY
DESCRIPTION
Featuring a three dimensional back massage mechanism that mimics the movement of human hands with the fourth dimension of variable speed, you'll experience deep kneading relief. The triple foot roller, Total Sole Reflexology™ stimulates all other areas of the body. What makes the Evolution 3D/4D unique is the Complete Calf™ kneading and oscillating leg massage rejuvinating tired muscles. And with Intelligent Voice Command + Control, you can simply tell the Evolution your favorite massage program selection. Or create your own perfect custom massage sequence and easily save using MyMassage™ Memory Programs. To enhance the entire wellness experience, turn on the integrated Air Ionizer for clean air intake and switch on the Intersound™ Bluetooth® system to play your favorite playlist for the the perfect state of relaxation. Finally, no need to worry about space. Zero Wall Fit™ Space-Saving Technology requires only 2" of space behind the backrest at any given position.

The Infinity Evolution 3D/4D is the total body health and wellness experience in the comfort of your home. It's time to start living better and feeling better.
FEATURES
Massage Techniques Include:
Kneading
Tapping
Knocking
Shiatsu
Sync
Product Features Include:
| | |
| --- | --- |
| 3D/4D Massage Technology | A 3D/4D back and glutes massage mimics deep tissue massage of human hands through the use of a 3D mechanism that moves up and down, left and right, in and out (intensity), and also adds a fourth dimension of variable speed on these movements, to create the feel of a human hands massage. |
| Triple Roller Total Sole Reflexology Foot Massage | This feature has the broadest coverage of the sole allowed in a massage chair today, utilizing three shiatsu rollers per foot attending to the vital pressure points on the feet linked to other parts of the body. |
| Premium Bluetooth speakers | Immersive speakers located in the headrest connect to a phone or other Bluetooth device allowing you to stream music, guided meditations, ambient soundscapes, and any other form of audio to enhance the mental experience of your massage. |
| 2 MyMassage™ Memory Programs | Two MyMassage™ programs allow you to build a manual massage sequence then save it to run as your very own program to enjoy time after time just by recalling it. |
| Integrated Air Ionizer | The chair contains a small vent near the headrest to facilitate healthy oxygen intake by emitting negatively charged ions to reduce intake of pollutants. |
| Intelligent Voice Command + Control | This hands-free feature works with an intelligent voice control system that allows you to activate massage programs simply by asking. |
| Complete Calf™ Kneading + Oscillation | The ultimate in lower leg relief. The calf area of each leg contains kneading rollers in the back and orbital oscillation on the sides of the calves to soothe sore, tired calf muscles. The rollers and oscillation imitate human hands gently working to relieve tension and pain and restore circulation and flexibility. Simultaneously, the multiple air cells provide compression with adjustable intensity. |
| 49" L-Track Massage | The L-Track follows the curve of the spine, moving up and down the neck to the lower back, and extending further down the body to your gluteus muscles, ensuring that you receive an encompassing spa-quality massage. |
| Weightless Zero Gravity Recline | Initially developed by NASA, Zero gravity positioning elevates your feet above your heart, relieves pressure on your spine, and improves circulation. This allows the spine to decompress and provides a sense of weightlessness to aid in the therapeutic benefits of the massage chair. |
| TrueFit™ Footrest Extension | The footrest mechanically extends, then retracts, in order to create a custom length set to the user's legs. |
| Zero Wall Fit™ Space-Saving Technology | By sliding the chair forward while reclining, this feature allows the amount of space required between the chair and the wall to be just a few inches. Chairs without this feature must be placed far away from the wall taking up much more space in the room. |
| Rocking Technology | The chair rocks back and forth in a metronome-based movement to provide the classic rocking chair feeling for soothing relaxation. |
| Lumbar Heat | Heating modules located in the lower back of the chair provide a soothing sensation and loosen your muscles to better prepare your body for the massage. |
| Truefit™ Body Scanning | Special technology within the hardware and software of the chair allows the chair to pinpoint the user's size and shape, providing a customized massage specific to them. |
| USB Charging Station | Charge any USB device with the convenient USB port on-board, located within reach while in the chair. Recharge your phone while you recharge your body. |
| Apple & Android App Functionality | Operate the chair right from your Apple or Android device with a free download of its app-based functionality. |
| Adjustable Shoulder Airbags | Get a more precise fit with adjustable shoulder airbags to better suit your body. |
| Color Menu-Driven Remote | Full-color display allows a menu-driven interface for added features over static displays or control panels. |
| 9 Auto Programs | Nine convenient and easy-to-use automated and choreographed programs with the push of a button. Each program automatically changes massage techniques, intensities, and chair movements to create a complete massage session. |
SPECIFICATION
Chair Width: 35.00"
Chair Weight: 323.40 lbs.
Upright
Chair Length: 66.00"
Chair Height:48.00"
Reclined
Chair Length: 80.00"
Chair Height: 36.00"
PRODUCT MANUALS
Brochure
Owners Manual
Quick Start Guide
Assembly Guide
INFINITY WARRANTY
INFINITY CARE
5 Year Residential Limited Warranty
Unlimited USA-based customer & technical support
5 Year structural framework warranty
No-cost replacement on covered parts for 3 years
Complete Care/No-cost parts & labor (in-home, if necessary) for 1 year
Complete Care Warranty Period
For In - Home service, Infinity Massage Chairs will arrange all covered parts deemed necessary, to be sent to the consumer and, if necessary, an authorized service provider to repair the product at the customer's residence, at no charge to the customer. If a particular part is no longer manufactured, Infinity Massage Chairs may replace your product with a similar product. Under no circumstances shall the retail replacement value exceed the original net price paid for the product. In the event you choose not to accept a replacement for your product, Infinity Massage Chairs is no longer responsible for making repairs under the warranty coverage.
Any repairs needed during the 3-year parts warranty coverage, Infinity Massage Chairs will provide covered parts at no cost; however, consumer is responsible for any and all shipping, duties and brokerage fees. Structure warranty is limited to the steel and steel-welded parts of the frame, in addition to any wood structure that may exist. If a replacement is issued under the Parts or Structure warranty period, the consumer is responsible for shipping, duties, and brokerage fees related to the replacement. Infinity Massage Chairs, at its sole discretion, will repair or replace any defective part within a reasonable time frame. Field Service is only available in the United States and major metropolitan areas in Canada. Field Service requires pre-approval and, if necessary, must be performed by Infinity Massage Chairs-authorized field service personnel to maintain warranty coverage.
Warranty Exclusions
Warranties do not cover any loss or damage resulting from: improper installation; unauthorized repairs; use in a commercial or corporate setting; alterations or modifications of original condition; improper use of electrical/power supply; loss of power; electrical disturbances and power surges; dropped product, including but not limited to remote controls; a malfunction or damage resulting from improper use or unreasonable use or maintenance; failure to follow operating instructions; transportation damage; theft; abuse; misuse; neglect; vandalism; or environmental conditions(fire, floods, rust, corrosion, sand, dirt, windstorm, hail, earthquake, or exposure to weather conditions); loss of use during the period the product is at a repair facility or otherwise awaiting parts or repair; and products purchased or acquired from unauthorized dealers. This warranty is not transferable. Damage incurred due to shipping and handling does not constitute a defect under this warranty. Softening/hardening of foams and filling composites in pillows and pads does not constitute a defect under this warranty as those items naturally change with use. Fading, wear, and pilling of fabrics does not constitute a defect under this warranty as those conditions naturally occur with fabrics. Natural markings and grain and dye variations in leather do not constitute a defect under this warranty, as no two pieces of leather are alike. Failures of attach points, such as, but not limited to: stitching, Velcro, and zippers, do not constitute a defect under this warranty.
To initiate an Infinity Care Warranty claim, simply call our Customer Support Team at 603-910-5000.
SHIPPING & RETURNS
Cancellations & Refunds: At In-Essence Homes, we pride ourselves on having the best return policies in the industry. Cancel your order any time before it ships completely free of charge (exceptions apply such as custom orders, see below).
If you have questions, please send an email to info@inessencehomes.com or call us at 1-(307) 218 7280
Will I get confirmation of my order?
As soon as we receive your order, we'll send out confirmation to your email address, this just means we've received your order in our system and we've pre-authorised your payment method ready for your purchase.
What happens after I receive my order confirmation?
We check with our warehouse or suppliers to make sure that your item(s) are available and can be despatched as soon as possible. If your item(s) are available for shipping (within 5 business days), we'll process the charges and prepare to ship your order.
Where do you deliver?
We deliver to the United States of America only.
Cancellations (Before Order Ships)
If you need to cancel an order, please contact us as soon as possible so we can refund you in full before your order leaves the warehouse. Reach agents during business hours at 1-(307) 218 7280, the chat in the bottom right, or email info@inessencehomes.com any time.
Cancellations of Custom Orders
Custom or made to order products cannot be canceled or refunded as these products are put into production specifically for your order.
These units, are custom made to your specification or created once you order. Once you place your order they start building your unit. Your warranty will guarantee you a fully functional and operational product. If it is not clear whether your order is custom or made to order, please message or call us.
All sales are final for Custom made and Made-to-order products.
Refunds and Returns
If you need to exchange your product, you may do so. You, as the customer, are responsible for any shipping costs throughout any returns and exchange processes.
Not all orders are available for return once they have shipped. We order our products directly from the manufacturer. Therefore, if the manufacturer will not permit us to return a product, we cannot offer you a return. This often varies on a case-by-case basis; please reach out to us if you would like specific information on your brand and/or product.
Due to drastically increasing LTL/freight shipping costs, any outright returns will incur 25% cancellation fee + return shipping costs. If you are replacing the product with something else, we may be able to help you cover some of the costs depending on the product.
Shipping Times
We promise to do our best to get your order to you as soon as possible.  We provide estimated shipping times on the product pages based upon what our suppliers and freight companies tell us, and those estimated shipping times may change or vary without notice (Due to supply chain issues, the steel mills behind on making metal, the manufacturers delayed because of the mills, the overwhelmingly demand on shipping, factory/warehouse and dock workers and so on).
Order delays have proven to be unavoidable and outside of In-Essence Homes control. While this might be frustrating, we ask you to please be patient and understanding with us in these tough times. We thank you for your business and appreciate your patience.
Warranty
Warranties vary depending upon the manufacturer - see individual product pages for details. Warranty damages occur over time and from use. If an item was damaged upon arrival, and not reported within 30 days, that is not a warranty claim.
Contact info@inessencehomes.com for any questions.
BY USING THE SITE, YOU AGREE TO THESE TERMS OF USE; IF YOU DO NOT AGREE, DO NOT USE THE SITE.
Our Shipping Partners
ABOUT INFINITY
As a pioneer in the massage chair industry, the Infinity brand name has been synonymous with high-quality engineering and innovation since its inception in 2009
Infinity's loyal customer base, excellent reviews on Trustpilot and A+ rating with the Better Business Bureau have made the brand the premier choice for massage chair technology.
What makes Infinity massage chairs unique is the careful orchestration of every massage. The therapeutic elements are choreographed to work in tandem with Infinity's advanced technology, from reflexology and space-saving mechanisms to voice control and Bluetooth connectivity.
Every Infinity massage chair model is carefully manufactured to provide you with the best massage experience possible.
For over 10 years, Infinity has been the leader in technology advancements for the massage chair industry. In fact, many of the most popular features and functions of modern full-body massage chairs were first pioneered by Infinity! And thanks to their diverse product line, there's an Infinity massage chair model designed to fit any budget and lifestyle.