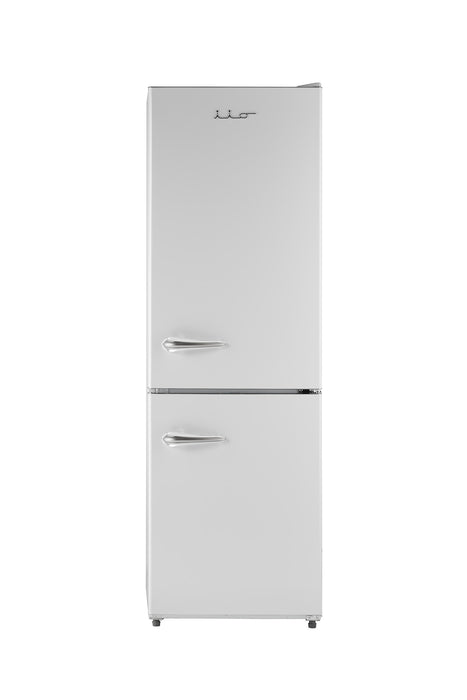 iio 11 Cu. Ft. Retro Refrigerator with Bottom Freezer
Save

17

%
Save

17

%
Original price
$1,918.80
-
Original price
$2,038.80
In Stock & Ready to Ship
All orders are shipped within 1 - 2 business days. Product ETA 5 - 7 business days.
Description

Features

Product Manual

Warranty

Shipping

About iio
DESCRIPTION
It's cool, it's stylish, it's fun. This retro-modern slim refrigerator has a surprising amount of adjustable space and square sides for side-by-side installation. With bright LED illumination, 3 safety glass shelves, a convenient frost-free top fresh food area and bottom freezer, the iio RM1 comes in gorgeous wine red, black, cream, white, and light blue color options to fit any decor. Truly where style meets function. This 11 cubic feet Retro-Mod compact fridge offers a future-friendly blend of nostalgic design and modern angles, packed with the latest technology. The electronic controls are easy to reach and easy to use, allowing you to quickly activate the Fast Cool feature that rapidly chills the refrigerator compartment and your freshly-stocked groceries. Frost free and with Multiflow 360° technology that circulates cool air more efficiently around every shelf, through every drawer, and over every surface, keeping your food at the ideal temperature, a large bottom freezer, bright LED lighting, and 3 rollout freezer drawers all enable even the smallest space in your home to reflect your luxury style. This tall skinny refrigerator comes with innovative features including chrome retro handles, a super fresh zone, and is ENERGY STAR certified. It's perfect for tight spaces and is a slim refrigerator that's perfectly sized for the small family home.
FEATURES
• Retro-Mod design for a timeless appearance
• Electronic controls are up front and easy to reach
• Frost-free refrigerator that never needs defrosting
• Multiflow 360° air circulation technology features over 12 individual air circulation flow slots for even temperature
• ENERGY STAR® certified which mean this fridge surpasses Federal energy efficiency guidelines
• Fast Chill function cools the fresh food area to quickly when required
• Super fresh zone offers ideal space for fruits and vegetables
• Almost 8 cubic feet of fresh food storage, plus over 3 cubic feet of freezer space
• Solid die-cast metal chrome handle that has been engineered to last
• Adjustable full-width glass shelves (3)
• Adjustable door shelves (4)
• Roll out freezer drawers (3)
• Bright, LED interior lighting
• Door ajar alarm
• Quiet compressor
• Bottle rack for your favourite beverage
• Egg tray
• Front adjustable leveling feet for easy installation (2)
• Right and Left door hinge models available
WARRANTY
iio™ warrants all refrigerators will be free from defects in materials or workmanship for a period of TWO YEARS from the date of original purchase.
THERE ARE NO OTHER WARRANTIES, EXPRESSED OR IMPLIED, INCLUDING BUT NOT LIMITED TO, WARRANTIES OR MERCHANT ABILITY OR FITNESS FOR A PARTICULAR PURPOSE. Proof of purchase/original invoice may be required to claim warranty. Keep a photocopy easily accessible.
If the home in which the refrigerator is installed is sold within the warranty period, the new owner is protected until the expiration of the original purchaser's warranty. During this two-year period, iio™ will at its option, repair or replace, without charges, any product or part which is found to be defective under normal use and service. This warranty does not cover:
a)normal maintenance and service;
b)any products or parts which have been subject to misuse, negligence, accident, improper maintenance, or repair (except by an authorized iio™ repair center), faulty installation or installation contrary to recommended installation instructions;
c)cosmetic damage.
iio™ OBLIGATION TO REPAIR OR REPLACE, AT iio™ OPTION, SHALL BE THE PURCHASER'S SOLE AND EXCLUSIVE REMEDY UNDER THIS WARRANTY. iio™ SHALL NOT BE LIABLE FOR INCIDENTAL, CONSEQUENTIAL OR SPECIAL DAMAGES ARISING OUT OF, OR IN CONNECTION WITH, PRODUCT USE OR PERFORMANCE.
This warranty applies only within North America, to refrigerators installed for use for PRIVATE SINGLE FAMILY USE. If used for COMMERCIAL, MULTI-FAMILY USE or any other purpose, the warranty will be voided.
Removal or disfigurement of the serial plate, will void the warranty. The purchaser will be responsible for any extra expenses involved in making the refrigerator readily accessible for servicing. The purchaser will be responsible for any extra charges where the installation is in a remote location such as un-assumed roads, islands, and areas known as cottage country, 20 km outside a Metropolitan area or where a technician is not available. Freight damage is not covered by this warranty.
For a iio™ authorized repair center please contact us at: 1-833-446-4461 or you can visit www.iiokitchen.com for more information.
SHIPPING
Cancellations & Refunds: At In-Essence Homes, we pride ourselves on having the best return policies in the industry. Cancel your order any time before it ships completely free of charge (exceptions apply such as custom orders, see below).
If you have questions, please send an email to info@inessencehomes.com or call us at 1-(307) 218 7280
Will I get confirmation of my order?
As soon as we receive your order, we'll send out confirmation to your email address, this just means we've received your order in our system and we've pre-authorised your payment method ready for your purchase.
What happens after I receive my order confirmation?
We check with our warehouse or suppliers to make sure that your item(s) are available and can be despatched as soon as possible. If your item(s) are available for shipping (within 5 business days), we'll process the charges and prepare to ship your order.
Where do you deliver?
We deliver to the United States of America only.
Cancellations (Before Order Ships)
If you need to cancel an order, please contact us as soon as possible so we can refund you in full before your order leaves the warehouse. Reach agents during business hours at 1-(307) 218 7280, the chat in the bottom right, or email info@inessencehomes.com any time.
Cancellations of Custom Orders
Custom or made to order products cannot be canceled or refunded as these products are put into production specifically for your order.
These units, are custom made to your specification or created once you order. Once you place your order they start building your unit. Your warranty will guarantee you a fully functional and operational product. If it is not clear whether your order is custom or made to order, please message or call us.
All sales are final for Custom made and Made-to-order products.
Refunds and Returns
If you need to exchange your product, you may do so. You, as the customer, are responsible for any shipping costs throughout any returns and exchange processes.
Not all orders are available for return once they have shipped. We order our products directly from the manufacturer. Therefore, if the manufacturer will not permit us to return a product, we cannot offer you a return. This often varies on a case-by-case basis; please reach out to us if you would like specific information on your brand and/or product.
Due to drastically increasing LTL/freight shipping costs, any outright returns will incur 25% cancellation fee + return shipping costs. If you are replacing the product with something else, we may be able to help you cover some of the costs depending on the product.
Shipping Times
We promise to do our best to get your order to you as soon as possible.  We provide estimated shipping times on the product pages based upon what our suppliers and freight companies tell us, and those estimated shipping times may change or vary without notice (Due to supply chain issues, the steel mills behind on making metal, the manufacturers delayed because of the mills, the overwhelmingly demand on shipping, factory/warehouse and dock workers and so on).
Order delays have proven to be unavoidable and outside of In-Essence Homes control. While this might be frustrating, we ask you to please be patient and understanding with us in these tough times. We thank you for your business and appreciate your patience.
Warranty
Warranties vary depending upon the manufacturer - see individual product pages for details. Warranty damages occur over time and from use. If an item was damaged upon arrival, and not reported within 30 days, that is not a warranty claim.
Contact info@inessencehomes.com for any questions.
BY USING THE SITE, YOU AGREE TO THESE TERMS OF USE; IF YOU DO NOT AGREE, DO NOT USE THE SITE.
Our Shipping Partners
ABOUT iio
Alex and James Brown, father and son, industry giants and entrepreneurs, together have helped some of the world's biggest brands succeed in the tough appliance market. Together, they've sold tens of thousands of fridges, ovens, stoves, dishwashers, and laundry appliances.
But as the market changed, they saw an opportunity to create a fresh new brand that blended the latest technology with truly distinct design. Energy efficiency meeting space efficiency, classic style meeting modern features. And iio was born.