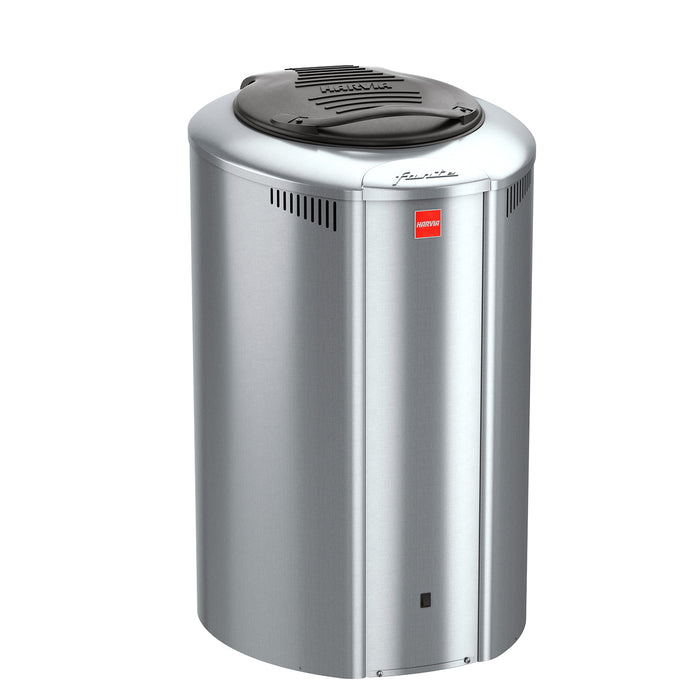 Harvia Forte Series Electric Sauna Heater Digital Control
Save

17

%
Save

17

%
Original price
$4,509.60
-
Original price
$4,671.60
In Stock & Ready to Ship
All orders are shipped within 1 - 2 business days. Product ETA 5 - 7 business days.
Forte Series, 4.4kW/ 6.5kW/ 9.8kW Sauna Heater Digital Control
The Forte AF450/ AF650/ AF100 sauna oven's stone space is crafted of corrosion-resistant stainless-steel for long-lasting strength and durability and is engineered to power saunas between 178 - 283, 250 - 421, 355 - 527 cubic feet (CF). Digital waterproof control included!
Requires a minimum of 220bs of stones, sold separately.
Description

Features

Includes

Required for Operation

Specifications

Product Manual

HARVIA Heaters Warranty

Shipping & Returns

About HARVIA
DESCRIPTION
The Forte is Harvia's innovative version of the heat-storing electric heater, combining top-of-the-range heater technology with a sleek design. Just grab a towel, lift the Forte's cover and climb onto the bench to enjoy humid and gentle steam. The Forte is equipped with a separate splash-Proof control panel. Forte's new Properties provide family saunas with a sense of safety. The heater will turn off automatically if you forget to close the cover, and the control panel has a keypad lock. The new ECO mode saves electricity, as it allows you to adjust the heater's temperature to a very low setting without turning off the heater.
FEATURES
Floor model
Stainless Steel housing
For sauna rooms from 4.5kW - 178 to 283 cu. ft, 6.5kW - 250 to 421 cu. ft, 9.8kW - 355 to 527 cu. ft. 
Requires a minimum of 220lbs of stones (5 boxes-AC3020)

Please note that each natural stone is unique in shape and size. We recommend purchasing an additional box of sauna stones to allow you to choose the highest quality of stone for fit, form, and function (Additional freight charges will apply). 

Equipped with a separate splash-proof control panel
Designed, engineered, and made in Finland
Dimensions: 20"W (500mm) x 21"D (530mm) x 35"H (880mm)
2-Year Warranty (Consumer use)

Manufacturer's Note: Sauna heater stones are significant to the unit's safety. In order for the warranty to remain valid, the user is responsible for proper maintenance.
INCLUDES
Sauna Heater with built-in digital control
Installation and operation manual
2-Year Warranty
REQUIRED FOR OPERATION
Harvia AC3020
Sauna Heater Stones, Split Face, 10-15cm

SPECIFICATIONS
| | |
| --- | --- |
| Model | AF450 |
| Kilowatt Rating (KW) | 4.4kW |
| Primary Fuel | Electric |
| Minimum Adjusted Cubic Feet | 178 |
| Maximum Adjusted Cubic Feet | 283 |
| Voltage | 240V |
| Phase | 1PH |
| Nominal Amps | 27 amps |
| Heater Weight | 74 lbs |
| Shipping Weight with Sauna Stones | 294 lbs |
| Width In Inches | 20" (500mm) |
| Depth In Inches | 21" (530mm) |
| Height In Inches | 35" (880mm) |
| | |
| --- | --- |
| Model | AF650 |
| Kilowatt Rating (KW) | 6.5kW |
| Primary Fuel | Electric |
| Minimum Adjusted Cubic Feet | 250 |
| Maximum Adjusted Cubic Feet | 421 |
| Voltage | 240V |
| Phase | 1PH |
| Nominal Amps | 27 amps |
| Heater Weight | 74 lbs |
| Shipping Weight with Sauna Stones | 294 lbs |
| Width In Inches | 20" (500mm) |
| Depth In Inches | 21" (530mm) |
| Height In Inches | 35" (880mm) |
| | |
| --- | --- |
| Model | AF100 |
| Kilowatt Rating (KW) | 9.8kW |
| Primary Fuel | Electric |
| Minimum Adjusted Cubic Feet | 355 |
| Maximum Adjusted Cubic Feet | 527 |
| Voltage | 240V |
| Phase | 1PH |
| Nominal Amps | 40.8 amps |
| Heater Weight | 74 lbs |
| Shipping Weight with Sauna Stones | 294 lbs |
| Width In Inches | 20" (500mm) |
| Depth In Inches | 21" (530mm) |
| Height In Inches | 35" (880mm) |
HARVIA HEATERS WARRANTY
This HARVIA SAUNA heater is guaranteed for one year from date of purchase, and includes all heater parts such as heating elements, controls, contactors, etc.
This guarantee covers faults in manufacture and material only, and includes the exchange of new parts supplied by the manufacturer or importer, after the faulty part has been returned to same. The replacement of parts under warranty does not extend the warranty period beyond the original one year.
The guarantee does not cover defects caused by normal wear and tear, defects caused by improper installation, poor maintenance, or failure to follow the manufacturer's instructions for installation, use and care, or alterations made to the Sauna product. This guarantee is void if the heater is used improperly, pool or spa water should not be poured over the Sauna stones, as chemicals are harmful to the heater; the Sauna room must be heated for at least 30 minutes before water is poured over the stones; only one or two dippers full of water should be poured over the hot stones at one time. This guarantee will be void if a shower has been installed in the Sauna room.
This guarantee does not cover delivery costs of the faulty part or costs of the person carrying out the repair in the field. If the Sauna heater is returned to the manufacturer or the importer within five years after date of purchase, the importer will provide free labor for repair, but will charge for parts if date of purchase is past one year.
This guarantee will be void if installation and wiring is not carried out by a certified electrician or authorized and qualified service representative, who must sign below.
This guarantee will be void if information below is not filled out and returned within 15 days of purchase, and it applies only to original installation of product and to original purchaser.
**All Policies, Warranty Terms and Conditions are presented before purchase.
SHIPPING & RETURNS
Cancellations & Refunds: At In-Essence Homes, we pride ourselves on having the best return policies in the industry. Cancel your order any time before it ships completely free of charge (exceptions apply such as custom orders, see below).
If you have questions, please send an email to info@inessencehomes.com or call us at 1-(307) 218 7280
Will I get confirmation of my order?
As soon as we receive your order, we'll send out confirmation to your email address, this just means we've received your order in our system and we've pre-authorised your payment method ready for your purchase.
What happens after I receive my order confirmation?
We check with our warehouse or suppliers to make sure that your item(s) are available and can be despatched as soon as possible. If your item(s) are available for shipping (within 5 business days), we'll process the charges and prepare to ship your order.
Where do you deliver?
We deliver to the United States of America only.
Cancellations (Before Order Ships)
If you need to cancel an order, please contact us as soon as possible so we can refund you in full before your order leaves the warehouse. Reach agents during business hours at 1-(307) 218 7280, the chat in the bottom right, or email info@inessencehomes.com any time.
Cancellations of Custom Orders
Custom or made to order products cannot be canceled or refunded as these products are put into production specifically for your order.
These units, are custom made to your specification or created once you order. Once you place your order they start building your unit. Your warranty will guarantee you a fully functional and operational product. If it is not clear whether your order is custom or made to order, please message or call us.
All sales are final for Custom made and Made-to-order products.
Refunds and Returns
If you need to exchange your product, you may do so. You, as the customer, are responsible for any shipping costs throughout any returns and exchange processes.
Not all orders are available for return once they have shipped. We order our products directly from the manufacturer. Therefore, if the manufacturer will not permit us to return a product, we cannot offer you a return. This often varies on a case-by-case basis; please reach out to us if you would like specific information on your brand and/or product.
Due to drastically increasing LTL/freight shipping costs, any outright returns will incur 25% cancellation fee + return shipping costs. If you are replacing the product with something else, we may be able to help you cover some of the costs depending on the product.
Shipping Times
We promise to do our best to get your order to you as soon as possible.  We provide estimated shipping times on the product pages based upon what our suppliers and freight companies tell us, and those estimated shipping times may change or vary without notice (Due to supply chain issues, the steel mills behind on making metal, the manufacturers delayed because of the mills, the overwhelmingly demand on shipping, factory/warehouse and dock workers and so on).
Order delays have proven to be unavoidable and outside of In-Essence Homes control. While this might be frustrating, we ask you to please be patient and understanding with us in these tough times. We thank you for your business and appreciate your patience.
Warranty
Warranties vary depending upon the manufacturer - see individual product pages for details. Warranty damages occur over time and from use. If an item was damaged upon arrival, and not reported within 30 days, that is not a warranty claim.
Contact info@inessencehomes.com for any questions.
BY USING THE SITE, YOU AGREE TO THESE TERMS OF USE; IF YOU DO NOT AGREE, DO NOT USE THE SITE.
ABOUT HARVIA

Harvia is a global leader in the sauna and spa market. We want to provide relaxing experiences and natural wellbeing to people whether at home or at public sauna and spa premises.
Saunas and spas are provoking increasing interest around the world. This reflects the global wellness trend that continues to gain traction. The proven health effects of saunas and the improving buying power of the global middle class feed into the increase in saunas all over the world.
Harvia has a comprehensive sauna and spa product range, from heaters and their components to full sauna and spa solutions – meeting the needs of consumers and industry professionals alike.