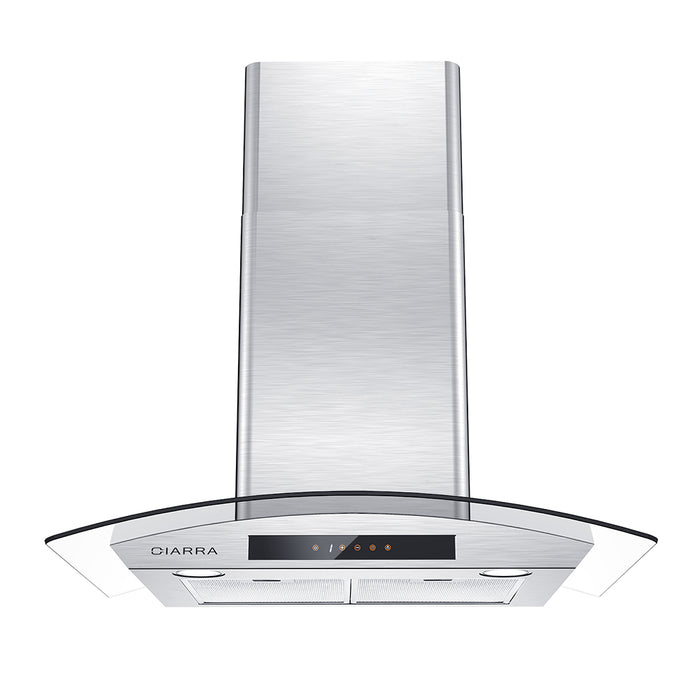 CIARRA 30" 450 CFM Wall Mount Convertible Range Hood in Stainless Steel with Touch Controls and LED Lights
Save

17

%
Save

17

%
Original price
$443.99
-
Original price
$443.99
In Stock & Ready to Ship
All orders are shipped within 1 - 2 business days. Product ETA 5 - 7 business days.
Description

Features

Product Manual

Warranty

Shipping

About Ciarra
DESCRIPTION
The CIARRA Wall Mount Convertible Range Hood sports a curved glass and stainless-steel finish. This rustproof and non-magnetic range hood can be cleaned effortlessly. This 30-inch range hood comes with a durable motor system and features 3 speed levels to suit your ventilation needs. With a powerful 450 CFM suction power, this vent hood can remove smoke and cooking odors with ease, while operating quietly. The range hood has two 5-layer aluminum grease filters that help keep grease and moisture out of your cooking area.

This convertible wall mount range hood is designed for either ducted or ductless installation. The included exhaust pipe allows for ducted operation by extracting the air through the top vent hole. Utilizing the carbon filters (CACF003) that are sold separately, this convertible range hood can operate in a ductless mode in which air is passed through the filters and purified. Clean air is then released back into the cooking area.

With the Delay function, this range hood continues ventilating after completion of the cooking process, then automatically shuts off once the timer is up. You can select between 4 Delay settings from 5 minutes to 20 minutes, 5 minutes apart from each setting. With the Clean&Fresh function, the range hood will automatically turn on for ventilation at the lowest fan speed for 5 minutes every hour for up to 24 hours, thereby keeping your cooking space safe and clean.

The sensitive touch control panel allows you to easily switch between the 3 fan speed levels and control the lights. The two 1.5W LED lights are energy efficient and are specifically integrated below your range hood to perfectly light up your cooking area. The integrated range hood is suitable for a variety of cooking methods from simmer to grill.

FEATURES
• DURABLE MOTOR SYSTEM: Cast aluminum motor housing is durable and sturdy.
• POWERFUL SUCTION: Efficiently removes smoke and odor with the 450 CFM suction power.
• 3 SPEED LEVELS: Low, Medium, and High speed levels to suit your ventilation needs.
• SUPERIOR FILTRATION: 5-layer aluminum grease filters trap cooking grease and oil with ease.
• EASY OPERATION: Sensitive touch control panel to control the suction power, lights, and fan speed.
• DELAY SHUT OFF FUNCTION: Hood continues to ventilate until the set timer is up.
• CLEAN&FRESH FUNCTION: Pre-set to operate for 5 minutes every hour for up to 24 hours at lowest fan speed.
• QUIET OPERATION: Quietly operates at 8.5 Sones even at the highest fan speed.
• CONVERTIBLE RANGE HOOD: Operates in ductless mode utilizing carbon filters (CACF003) that are sold separately.
• LED LIGHTS: Energy efficient LED lights have been built to last as long as 20,000 hours.
• 2 YEAR WARRANTY: Peace of mind with industry-leading warranty and North American customer service.

SHIPPING
Cancellations & Refunds: At In-Essence Homes, we pride ourselves on having the best return policies in the industry. Cancel your order any time before it ships completely free of charge (exceptions apply such as custom orders, see below).
If you have questions, please send an email to info@inessencehomes.com or call us at 1-(307) 218 7280
Will I get confirmation of my order?
As soon as we receive your order, we'll send out confirmation to your email address, this just means we've received your order in our system and we've pre-authorised your payment method ready for your purchase.
What happens after I receive my order confirmation?
We check with our warehouse or suppliers to make sure that your item(s) are available and can be despatched as soon as possible. If your item(s) are available for shipping (within 5 business days), we'll process the charges and prepare to ship your order.
Where do you deliver?
We deliver to the United States of America only.
Cancellations (Before Order Ships)
If you need to cancel an order, please contact us as soon as possible so we can refund you in full before your order leaves the warehouse. Reach agents during business hours at 1-(307) 218 7280, the chat in the bottom right, or email info@inessencehomes.com any time.
Cancellations of Custom Orders
Custom or made to order products cannot be canceled or refunded as these products are put into production specifically for your order.
These units, are custom made to your specification or created once you order. Once you place your order they start building your unit. Your warranty will guarantee you a fully functional and operational product. If it is not clear whether your order is custom or made to order, please message or call us.
All sales are final for Custom made and Made-to-order products.
Refunds and Returns
If you need to exchange your product, you may do so. You, as the customer, are responsible for any shipping costs throughout any returns and exchange processes.
Not all orders are available for return once they have shipped. We order our products directly from the manufacturer. Therefore, if the manufacturer will not permit us to return a product, we cannot offer you a return. This often varies on a case-by-case basis; please reach out to us if you would like specific information on your brand and/or product.
Due to drastically increasing LTL/freight shipping costs, any outright returns will incur 25% cancellation fee + return shipping costs. If you are replacing the product with something else, we may be able to help you cover some of the costs depending on the product.
Shipping Times
We promise to do our best to get your order to you as soon as possible.  We provide estimated shipping times on the product pages based upon what our suppliers and freight companies tell us, and those estimated shipping times may change or vary without notice (Due to supply chain issues, the steel mills behind on making metal, the manufacturers delayed because of the mills, the overwhelmingly demand on shipping, factory/warehouse and dock workers and so on).
Order delays have proven to be unavoidable and outside of In-Essence Homes control. While this might be frustrating, we ask you to please be patient and understanding with us in these tough times. We thank you for your business and appreciate your patience.
Warranty
Warranties vary depending upon the manufacturer - see individual product pages for details. Warranty damages occur over time and from use. If an item was damaged upon arrival, and not reported within 30 days, that is not a warranty claim.
Contact info@inessencehomes.com for any questions.
BY USING THE SITE, YOU AGREE TO THESE TERMS OF USE; IF YOU DO NOT AGREE, DO NOT USE THE SITE.
Our Shipping Partners
ABOUT CIARRA
Ciarra sees it all and thinks ahead to deliver more pleasant cooking experiences for every member of the family. From the high-performance product lines to the user-friendly designs; Ciarra always has solution for you. Ciarra is a professional kitchen appliance brand and we believe cooking at home should be convenient and enjoyable. Our easy-to-use induction cooktop and oven will give you total control over the temperature of your food so overcooking or undercooking is no longer a problem. Our range hood is so effective that when you have a party where you fry, cook, roast, none of the odors linger around your guests, just the great food and fun memories.

Our team has over 20 years of experiences in the kitchen appliance industry, Ciarra has a vertically integrated production line, we have full control from design to manufacturing. Customer satisfaction is always our first priority and we value each individual feedback from our customer. CIARRA believes that a sustainable lifestyle is very important for our community and planet, also we should cherish each moment that we spend with our family and friends. Hopefully CIARRA can re-introduce cooking to you, with the right kitchen appliances CIARRA can light up your passion for cooking, so you can share the joy & satisfying result with your family and friends.