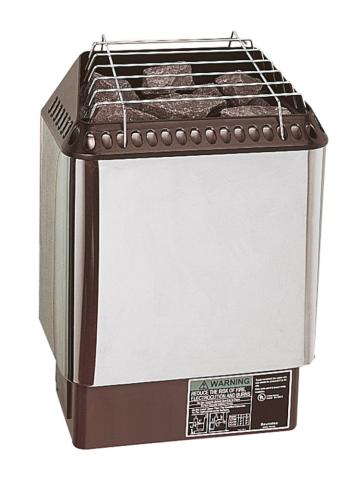 Amerec Designer SL2 Series 8.0kW Sauna Heater | DSNR-SL28.0
Save

17

%
Save

17

%
Original price
$1,243.20
-
Original price
$1,243.20
In Stock & Ready to Ship
All orders are shipped within 1 - 2 business days. Product ETA 5 - 7 business days.
Designer SL2 Series 8.0kW Sauna Heater
The Amerec Designer SL2 Series DSNR-SL28.0 8 kilowatt sauna heater is engineered to power sauna rooms up to 425 cubic feet (CF).
Must order Saunalogic2 control and contactor box separately.
Description

Features

Includes

Required for operation

Specifications

Product Manual

AMEREC Warranty & Guides

Shipping & Returns

About AMEREC
DESCRIPTION
The Designer-SL28.0 8kW sauna heater is engineered to power sauna rooms up to 425 cubic feet (CF).
The sauna heater is the heart of the sauna room. Staying true to the company's half-century of experience, the Amerec Designer-SL28.0 generates an intensely penetrating heat.
Amerec Designer-S sauna heaters are solidly constructed of corrosion-resistant materials for years of exceptional performance. The Designer-SL28.0 unit features a durable stainless-steel body and professional-grade heating elements for long-lasting strength, safety, and reliability. Its 50-pound rock capacity provides optimal heat efficiency.
The Designer-SL28.0 is available in 240V single-phase configurations. 
The unit requires the use of an external SL2 digital control for operation. Select the available control with features that best suit your bathing preferences. 
The Designer-SL28.0 sauna heater carries a limited lifetime warranty and, unlike cheaper imitations, is fully serviceable. Amerec electric sauna heaters are UL listed for unmatched safety and quality.
SteamSaunaBath is proud be an authorized Amerec partner and offer the full line of Amerec sauna heaters.
We guarantee the lowest price. If you see a lower price advertised for this item elsewhere, give us a call!
SteamSaunaBath is the bathing environment experts. We specialize in sauna and steam room design, sales, installation, maintenance, and repair services. Our half-century of hands-on experience means that we are uniquely qualified to ensure the success of your bathing space and an unparalleled sauna experience. To contact a SteamSaunaBath Bathing Specialist, call: (800) 707-2862.
FEATURES
Wall-mounted
Stainless steel construction
Industrial grade, serviceable heating elements
Operates with SL2 Series Controls
Exceptionally large rock capacity
Direct rock-to-heating element contact
UL listed
23"H x 16-1/2"W x 11"D
For sauna rooms from 250 to 425 cu. ft.
Includes
8.0KW Heater, 23"H x 16-1/2"W x 11"D
50 Lbs. of Olivine sauna stones
Installation Manual
Limited Warranty
REQUIRED FOR OPERATION
Amerec SaunaLogic2
Touch Screen Control, Recessed Mounted
SPECIFICATIONS
| Model | DSNR-SL28.0 |
| --- | --- |
| Shipping Weight | 87 lbs |
| Minimum Cubic Feet | 250 CF |
| Maximum Cubic Feet | 425 CF |
| Kilowatt Rating | 8.0 kW |
| Width | 16-1/2" |
| Depth | 11" |
| Height | 23" |
AMEREC WARRANTY
TYLOHELO INC. warrants that AMEREC Steam Generators, Sauna Heaters, Sauna Rooms and Temperature Controls (warranted products) are free of manufacturing defects both as to workmanship and material and will replace or repair defective parts or equipment for the period of time and in accordance with the conditions set forth below: Note: please see Amerec document 4210-12 for the Amerec AI Boiler Warranty. 
1. Applicability. This warranty applies when the warranted product (a) is installed in accordance with installation instructions provided, (b) is properly and reasonably maintained, and (c) has not been subjected to damage, misuse, abuse, poor water conditions, freezing, flood, fire, lightning or other acts of God. This warranty does not apply to product sold in "as is" or damaged condition. This warranty applies to generators and controls purchased after April 1, 2012. 
2. Registration. This warranty becomes valid only after completing our online registration form at www.amerec.com or after the Limited Warranty Registration form, provided with this warranty, is completely filled in and signed by the original purchaser and sent to AMEREC within sixty (60) days from the date of original installation. This warranty is non-transferable and shall extend only to the original purchaser. 
3. Duration of Warranty. AMEREC or its authorized representative will provide parts to replace those with manufacturing or workmanship defects for a period of five (5) years from the date of original installation, except when the warranted product is installed in commercial locations such as clubs, condominiums, apartments, spas or military facilities. In commercial locations, AMEREC or its authorized representative will provide parts to replace those with manufacturing or workmanship defects for a period of one (1) year from the date of original installation.  Additionally, for non-commercial locations in the United States and Canada AMEREC or its authorized representative will provide reasonable labor to replace defective parts for a period of two (2) years from the date of original installation. After the initial 2 year period, AMEREC offers a Limited Lifetime Warranty on parts for all residential steam generators (excluding controls). AMEREC will repair the generator free of charge after it has been disconnected and returned to AMEREC's factory. The generator is to be shipped freight prepaid and AMEREC will return the repaired generator freight prepaid back to the customer. 
4. Warranty Work. All warranty work must be (a) authorized by AMEREC before it is performed; and (b) performed only by authorized AMEREC representatives. This warranty shall not apply to any charges for parts or labor incurred before receiving approval by AMEREC. 
5. Return Authorization Number. A return authorization number assigned by an AMEREC representative must be clearly marked on the carton used to return the product to AMEREC's factory. Parts which are returned without a Return Authorization Number may not be repaired or replaced. 
6. Procedure. Requests for repair or replacement, a return authorization number, or warranty information should be directed to AMEREC by calling tollfree 1-800-363-0251, by email to support@amerec.com or by writing to AMEREC, 575 Cokato St. E, Cokato, MN 55321. Defective product or parts returned for repair or replacement must be shipped prepaid to AMEREC at the above address. Shipping costs for return of replacement product or parts to the purchaser will be at the expense of the purchaser.   
7. Limitations, Exclusions, and Remedies. There are no warranties which extend beyond the descriptions of the face hereof. This limited warranty is in lieu of all warranties, expressed or implied, and of all other obligations or liabilities on the part of AMEREC. There shall be no implied warranty of merchantability. AMEREC neither assumes nor authorizes any person to assume for it any other obligation or liability in connection with the sale of its products.   Damages for breach of this warranty shall not exceed the lesser of the cost of repair or replacement. Repair or replacement shall be the exclusive remedy available to the purchaser.   Under no circumstances shall AMEREC be liable by virtue of this warranty or otherwise for any special, indirect, secondary, incidental, or consequential damage of any nature to any person or property arising directly or indirectly out of the use or inability to use a warranted product.   Some States do not allow limitations on how long an implied warranty lasts, or the exclusion or limitation of incidental or consequential damages, so the above limitations and exclusions may not apply to you. 
8. Disputes. Any lawsuit alleging breach of this limited warranty shall be commenced within one year from the date of breach. In addition, any such lawsuit may be commenced only in Wright County, Minnesota.   
9. Warranty Disclaimers. This warranty is void if alterations have been made in the physical construction of the product. Alterations include but are not limited to, changing any electrical component, adding additional time or temperature devices, or using these products with non-TYLOHELO INC. components such as unauthorized rocks. The steam generator warranty is void if connected to a water system with high mineral content. The sauna heater and or control warranty is void if installed in a sauna room with a shower. The use of swimming pool or spa water on sauna heaters will void the warranty.   This warranty gives you specific legal rights, and you may also have other rights which vary from State to State
SHIPPING & RETURNS
Cancellations & Refunds: At In-Essence Homes, we pride ourselves on having the best return policies in the industry. Cancel your order any time before it ships completely free of charge (exceptions apply such as custom orders, see below).
If you have questions, please send an email to info@inessencehomes.com or call us at 1-(307) 218 7280
Will I get confirmation of my order?
As soon as we receive your order, we'll send out confirmation to your email address, this just means we've received your order in our system and we've pre-authorised your payment method ready for your purchase.
What happens after I receive my order confirmation?
We check with our warehouse or suppliers to make sure that your item(s) are available and can be despatched as soon as possible. If your item(s) are available for shipping (within 5 business days), we'll process the charges and prepare to ship your order.
Where do you deliver?
We deliver to the United States of America only.
Cancellations (Before Order Ships)
If you need to cancel an order, please contact us as soon as possible so we can refund you in full before your order leaves the warehouse. Reach agents during business hours at 1-(307) 218 7280, the chat in the bottom right, or email info@inessencehomes.com any time.
Cancellations of Custom Orders
Custom or made to order products cannot be canceled or refunded as these products are put into production specifically for your order.
These units, are custom made to your specification or created once you order. Once you place your order they start building your unit. Your warranty will guarantee you a fully functional and operational product. If it is not clear whether your order is custom or made to order, please message or call us.
All sales are final for Custom made and Made-to-order products.
Refunds and Returns
If you need to exchange your product, you may do so. You, as the customer, are responsible for any shipping costs throughout any returns and exchange processes.
Not all orders are available for return once they have shipped. We order our products directly from the manufacturer. Therefore, if the manufacturer will not permit us to return a product, we cannot offer you a return. This often varies on a case-by-case basis; please reach out to us if you would like specific information on your brand and/or product.
Due to drastically increasing LTL/freight shipping costs, any outright returns will incur 25% cancellation fee + return shipping costs. If you are replacing the product with something else, we may be able to help you cover some of the costs depending on the product.
Shipping Times
We promise to do our best to get your order to you as soon as possible.  We provide estimated shipping times on the product pages based upon what our suppliers and freight companies tell us, and those estimated shipping times may change or vary without notice (Due to supply chain issues, the steel mills behind on making metal, the manufacturers delayed because of the mills, the overwhelmingly demand on shipping, factory/warehouse and dock workers and so on).
Order delays have proven to be unavoidable and outside of In-Essence Homes control. While this might be frustrating, we ask you to please be patient and understanding with us in these tough times. We thank you for your business and appreciate your patience.
Warranty
Warranties vary depending upon the manufacturer - see individual product pages for details. Warranty damages occur over time and from use. If an item was damaged upon arrival, and not reported within 30 days, that is not a warranty claim.
Contact info@inessencehomes.com for any questions.
BY USING THE SITE, YOU AGREE TO THESE TERMS OF USE; IF YOU DO NOT AGREE, DO NOT USE THE SITE.
ABOUT AMEREC

Amerec has been manufacturing steam and sauna products since the company originated in Seattle, Washington in 1963. In the decades since, Amerec has become a leader by creating top-quality, functional, and luxurious products for home and commercial applications. As the first in the industry to feature computer-controlled element switching, wireless controls, and touch screen control panels, Amerec keeps innovation in mind with each product. Amerec is now under the umbrella of the world's largest steam and sauna company, TyloHelo.